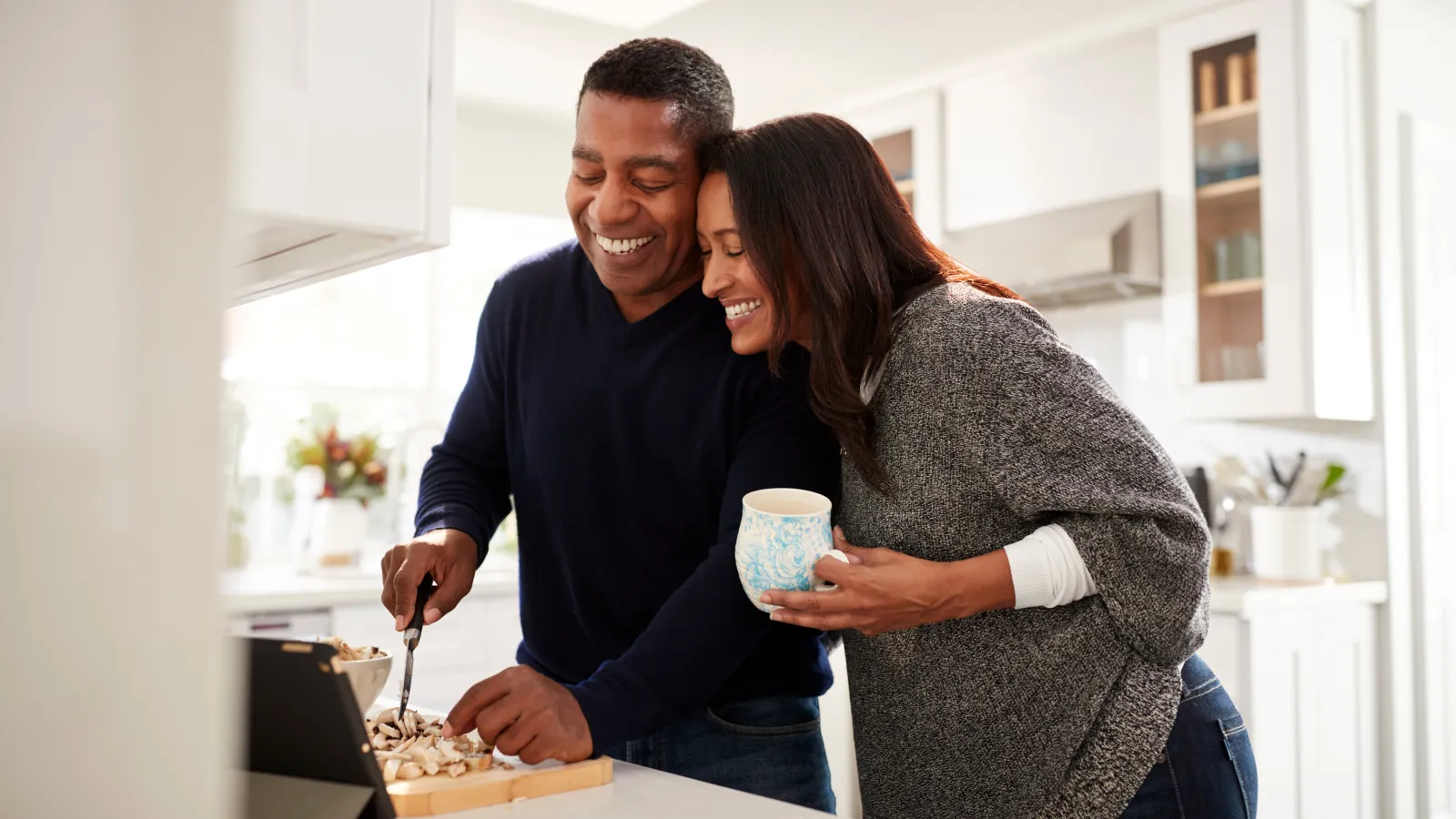 SE Michigan Insulation Services

Reinsulate Your Home in SE Michigan
with USA Insulation™
Re-Insulate Your Home in SE Michigan with USA Insulation
If you are tired of coming home to a household that is too cold, too hot, or just not efficient, it is time to call on the experts at USA Insulation of SE Michigan. We take pride in providing top quality insulation installation to customers throughout Ann Arbor, Ypsilanti, Monroe, Dearborn, Temperance, Lambertville, Adrian, Brighton, Dundee, Plymouth, and surrounding areas. Our goal is to help you maximize your energy efficiency, comfort, and savings! If you would like to have premium quality insulation in your home or building, our SE Michigan insulation experts are ready to help. We have been serving clients across the nation for 35+ years here at USA Insulation. In those three decades, we have upheld an impressive track record of client satisfaction.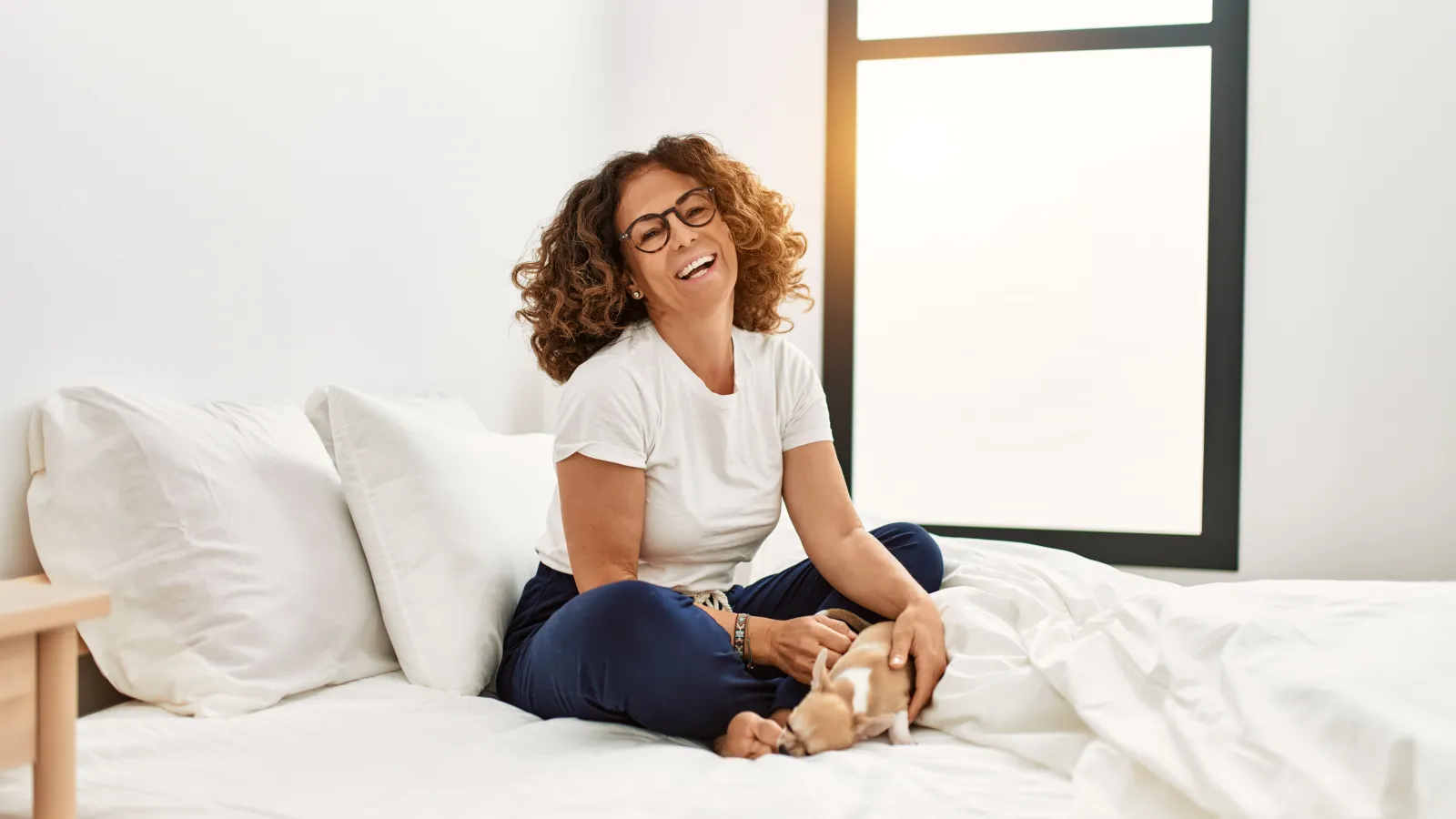 Quality Insulation Products,
Improved Comfort.

When you want insulation that protects you from the heat in the summer and cold in the winter, USA Insulation of SE Michigan has you covered. Our superior quality insulation products provide maximum energy efficiency, are safe for you and the environment, and are some of the most effective sound insulators on the market. Our insulation technicians are on a mission to improve comfort, energy efficiency, and savings for business and homeowners throughout the area. Backed by over 38 years of service in the insulation industry, USA Insulation is a name you can trust.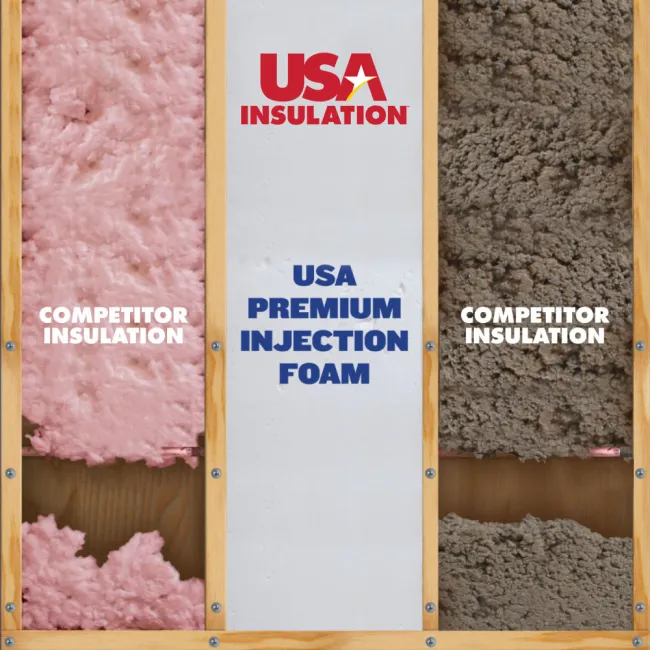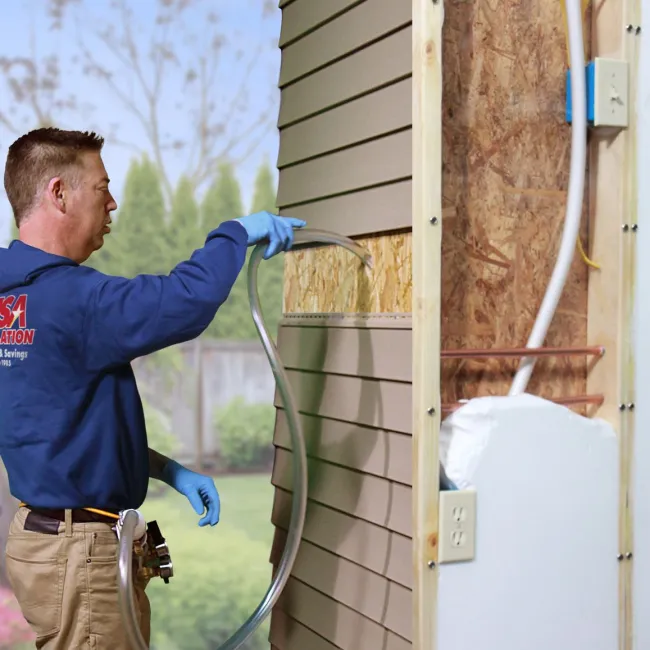 Injection Wall Foam
Used on both exterior walls and interior walls, USA Premium Injection Foam is second to none. It is injected into wall spaces with a fast application process, filling cracks and crevices that most other insulation products can't. The insulation fills spaces behind electrical and phone wires, pipes, electrical outlets, and other areas for maximum efficiency.
Blown-In Attic Insulation
When your attic is not properly insulated and ventilated, you can lose conditioned air quickly, making your home more difficult - and more expensive - to keep comfortable during the winter as well as the summer. In addition to letting heat escape during the cold winter months, a poorly insulated attic is a major contributing factor in the formation of ice dams, icicles, and mold growth, which can be both a health and safety hazard for your family and your property.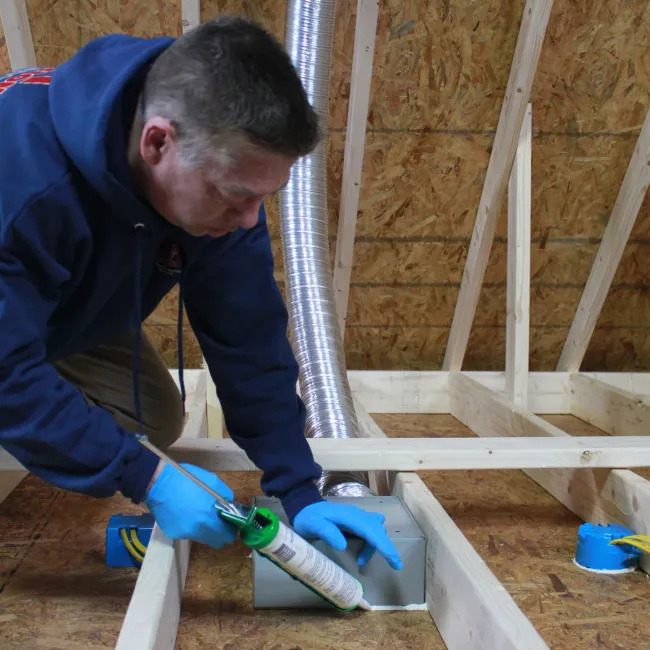 Air Sealing
Our highly skilled, trained, and experienced energy and insulation experts can come to your home to conduct our "Search and Seal" procedure. This process finds and targets the leaks that are hurting your home's energy efficiency, and seals them off for energy use reduction!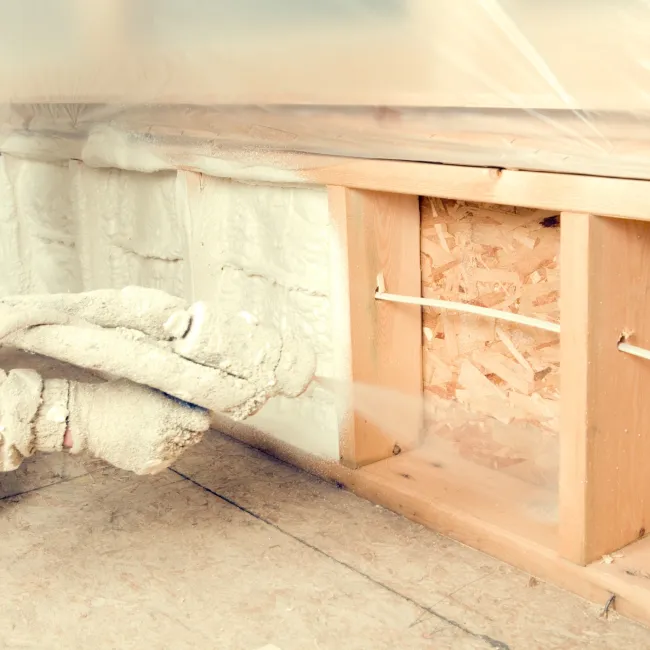 Spray Foam
Spray polyurethane foam (SPF) is an innovative foam plastic substance that is sprayed onto an open surface in paint-like form and then expands to create an insulating barrier against wind and outside temperatures. Once the insulation sets, it expands to create an insulation barrier against extreme temperatures and moisture.


Ready for a more comfortable home?

Let us test your home's energy efficiency for free. Request a free insulation inspection & estimate today.

Why do you need to
re-insulate your home or business?

10%
Energy Loss Through Windows
25%
Energy Loss Through Attic
35%
Energy Loss Through Walls
*15% of energy is lost through the basement & floor
Your Walls Waste More Energy Than You Think
If your home was built before 1980, that automatically makes you one of the 77 million Americans whose homes are insufficiently insulated, if they are insulated at all. Prior to 1980, there were no building codes for insulation minimums.
Latest
Promotions
30% Tax Credit Up to $1200
Government Tax Credit is 30% up to $1200.
Always consult a tax advisor.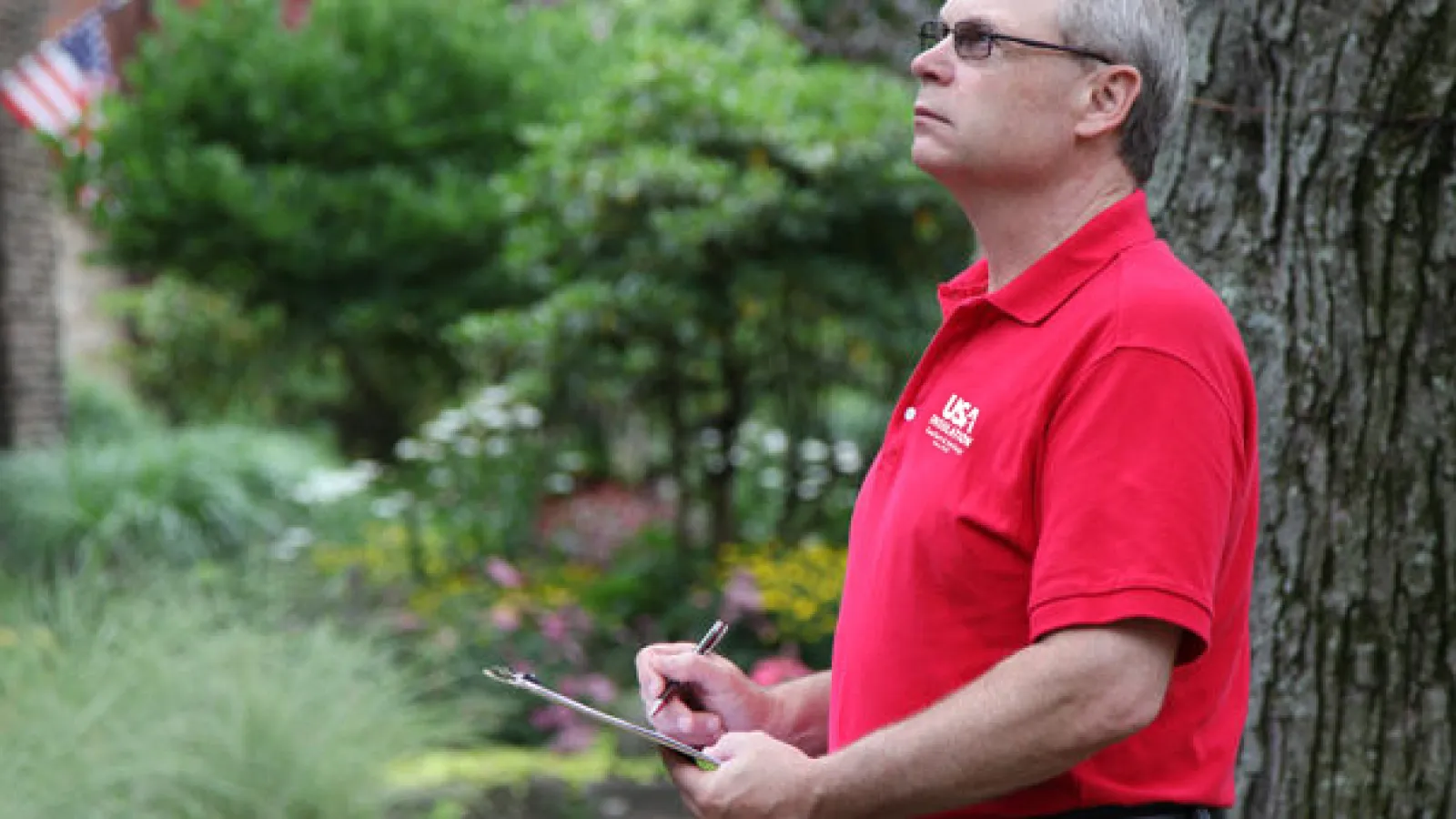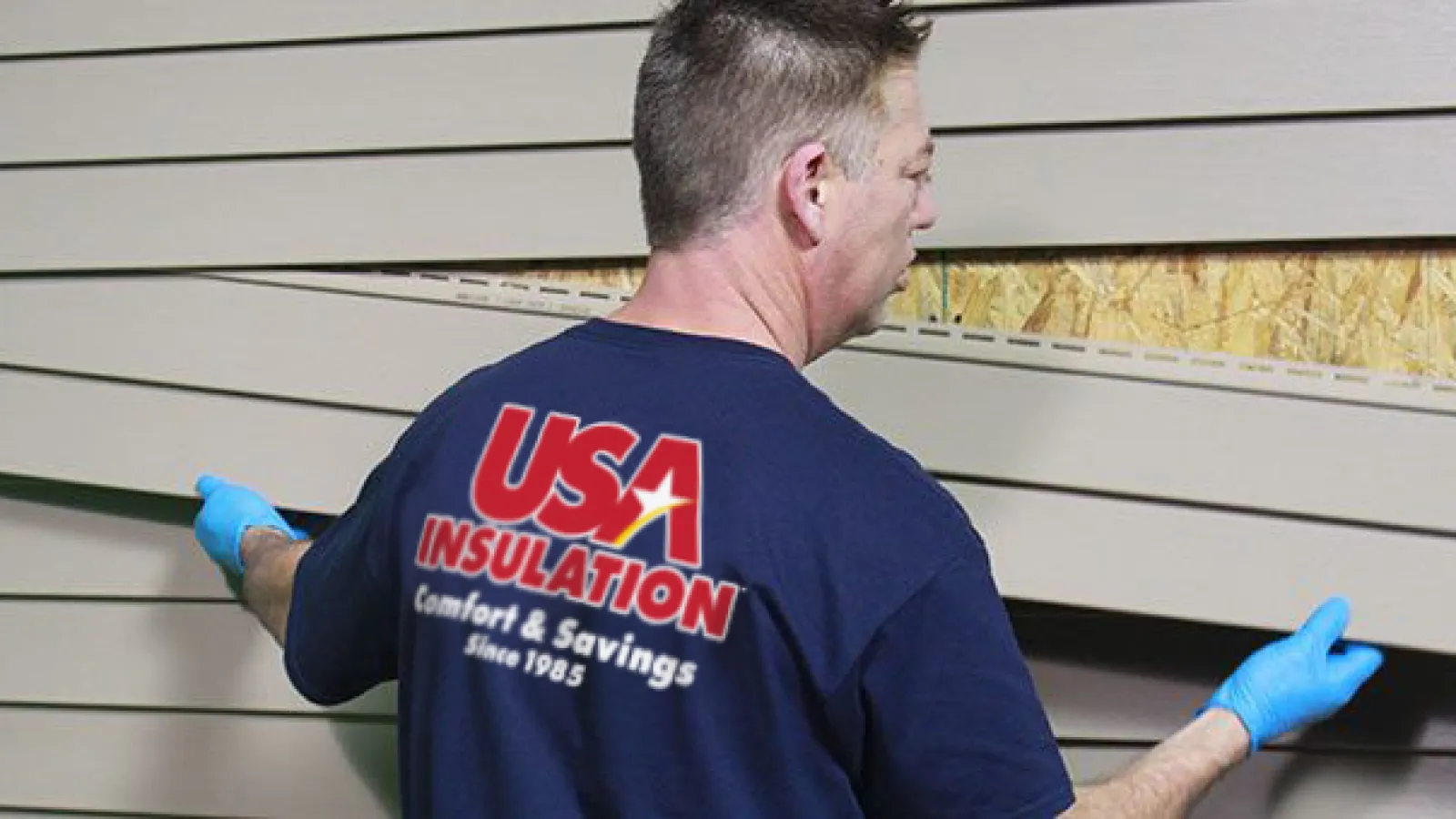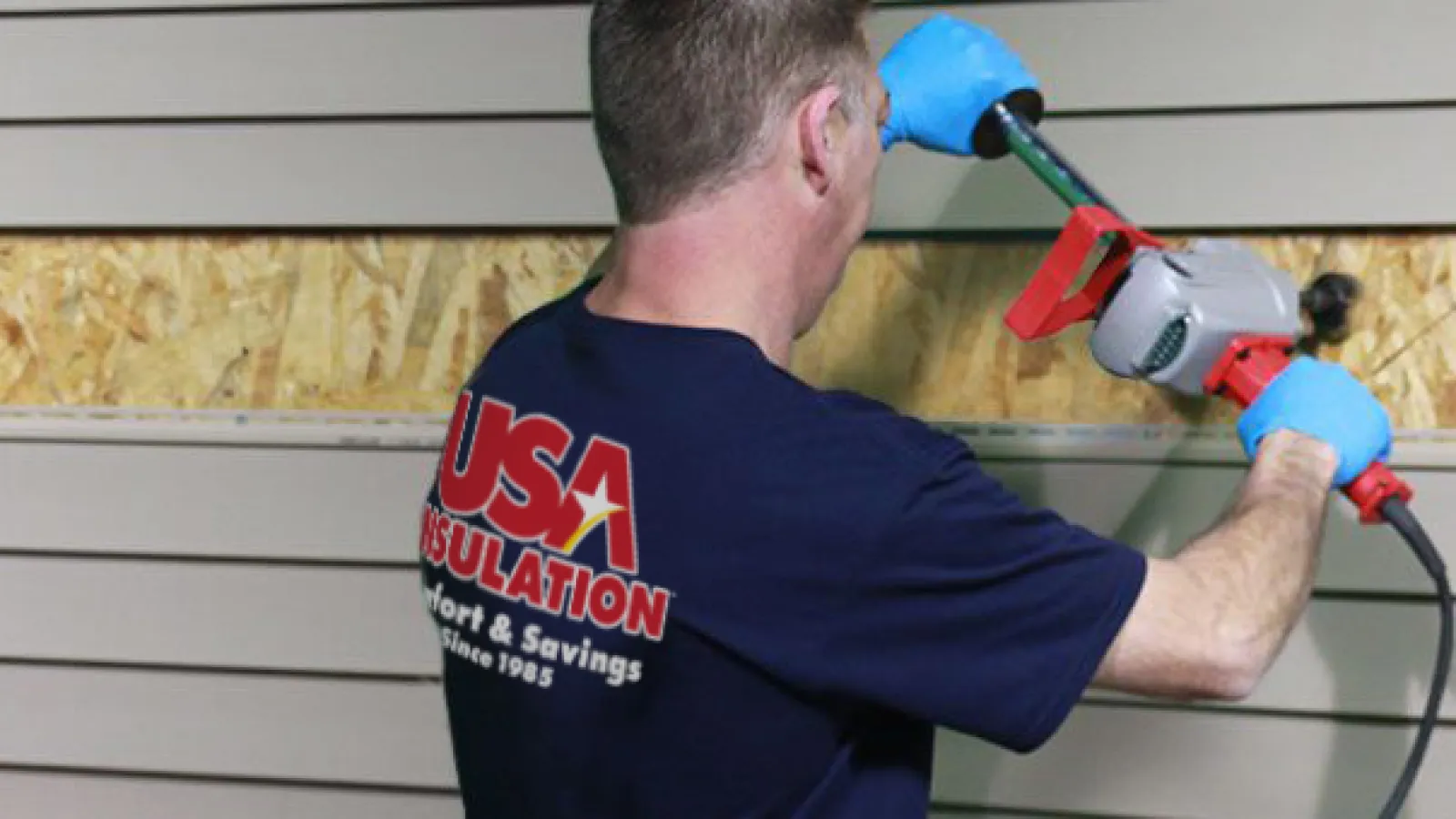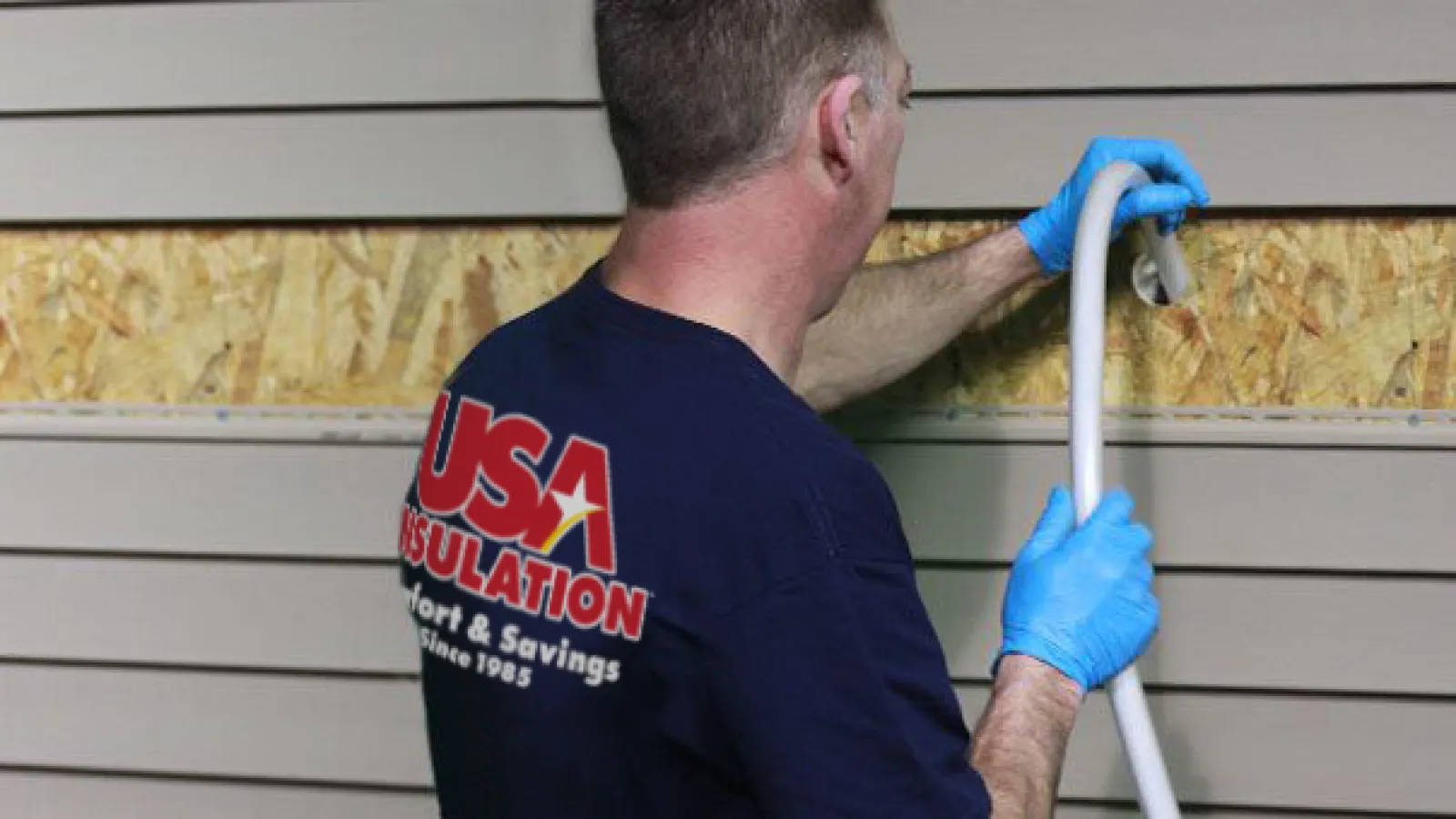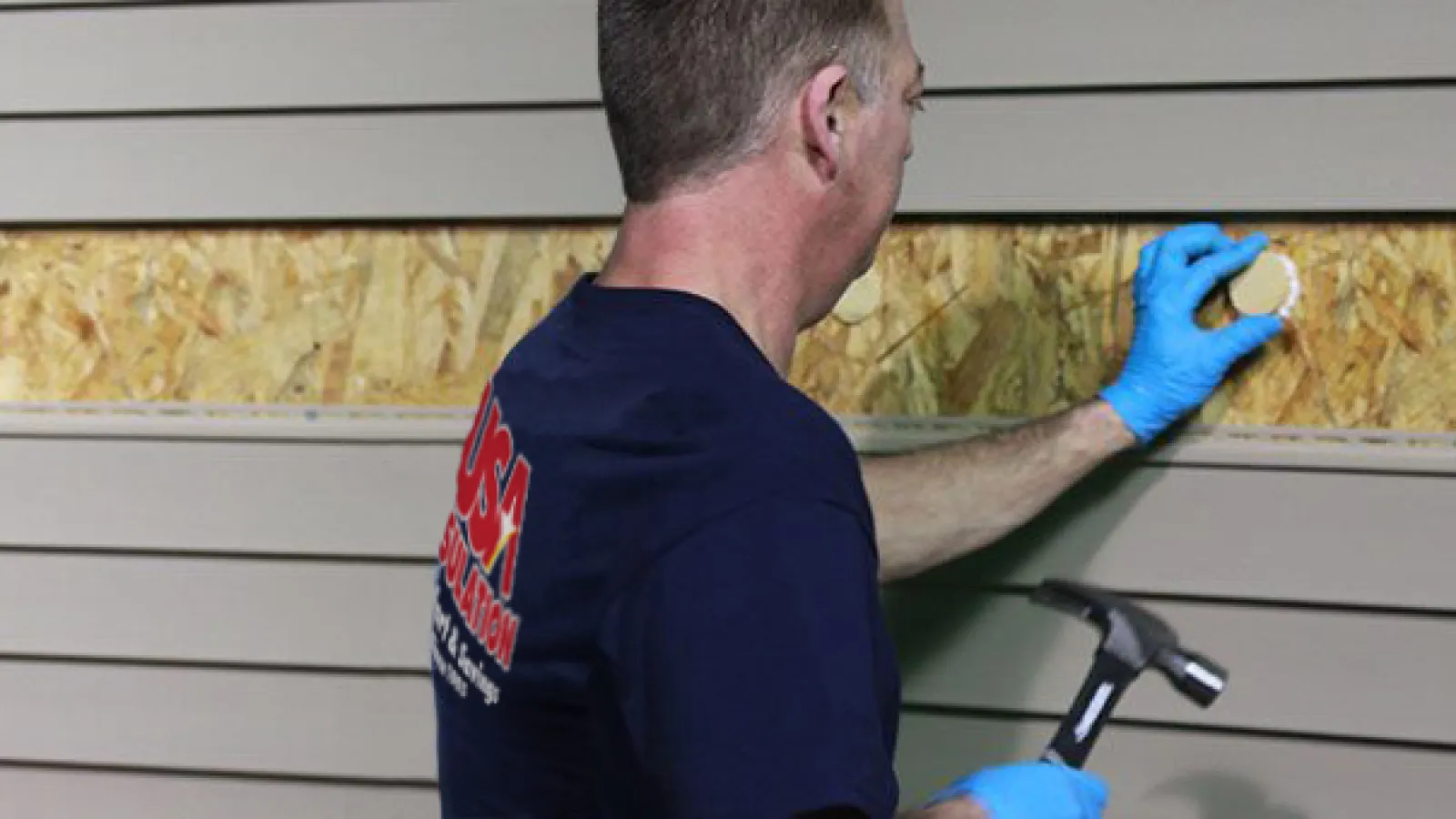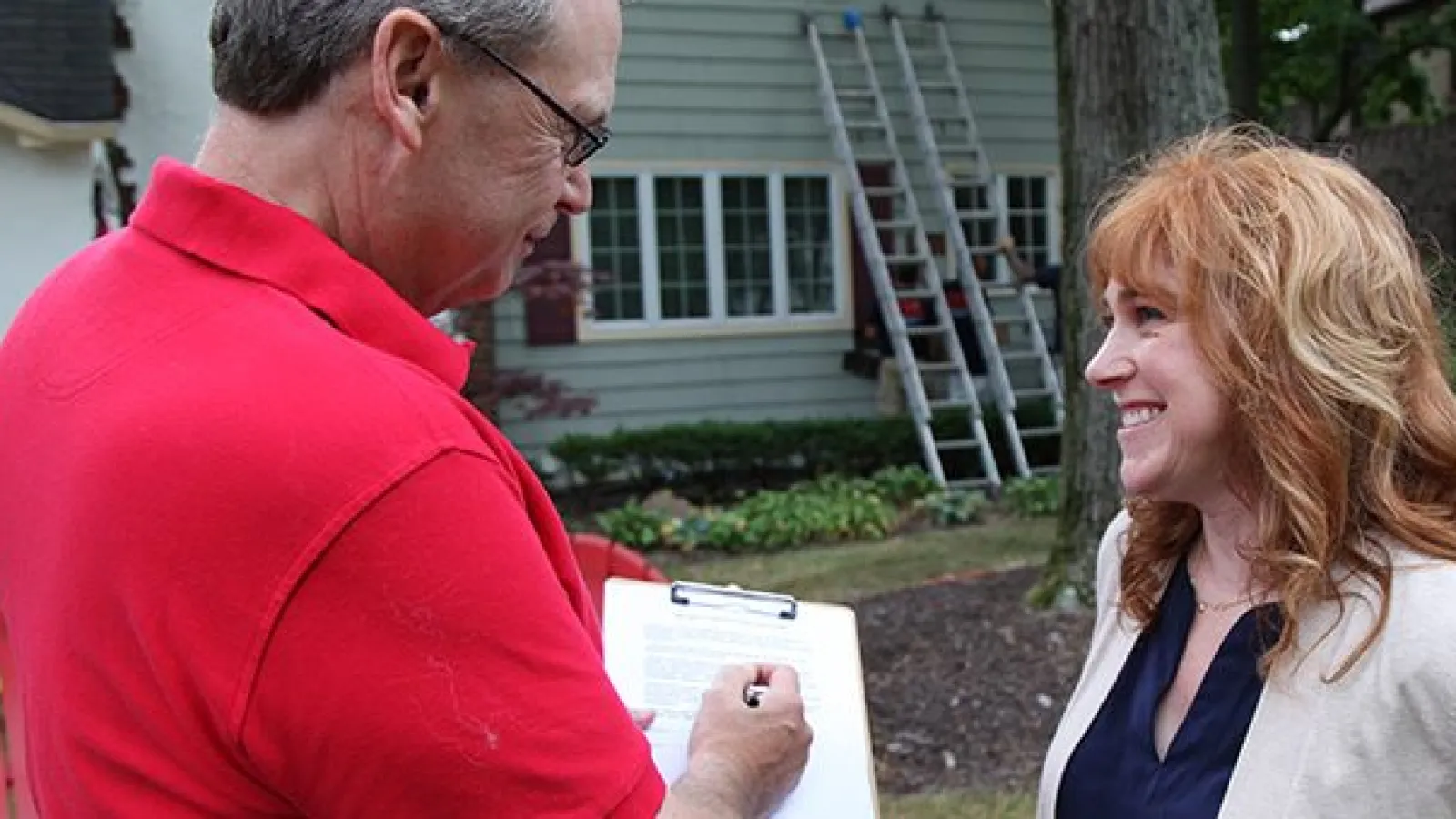 Pre-Installation Walkthrough
On installation day, we'll start by walking through the interior and around the exterior of your home together, explaining our process and what to expect.

Remove Siding

For homes with side paneling, we remove them on each section of wall.

Drill Holes
Next, we drill small holes between each wall stud along the side of the home. For homes with brick, we'll drill holes in the mortar to access the wall.

Inject Foam
After drilling holes, we then insert a tube through the holes into the wall cavity and begin to pump in our USA Premium Foam Insulation.

Fill Wall Cavities
We fill the wall cavity with the injection foam and it squeezes between gaps and crevices, forming an effective barrier. The insulation product hardens within minutes!

Plug Holes & Reinstall Siding
After insulating, we plug each hole, or cover with matching mortar, and return the siding to the home with no visible difference. It'll look like we were never there.

Post-Installation Walkthrough
We'll walk back through the interior and around the exterior with you, showing you exactly what we did and ensure that the finished product and clean-up meet your satisfaction.

Some Thoughts From Our
Awesome Customers
Cameron and his team arrived on time, worked diligently, and did a great job based on the before- and after-pictures. I especially appreciated that they were careful about using plastic wrap and...
- Daniel Strunk
USA does foam insulation. The crew was very good. They came in and started work immediately. The cleanup was very good. There was virtually nothing left for me to pick up. The crew checked in with...
- Kris Eggleston
Very professional they were on time and I can't stress how neat they were they cleaned up once the job was completed. There were quite a few of them working, but Kailyn and Colin were the two team...
- Katherine Forts
They showed up the time the operator said they would arrive. Kayla was the supervisor and her crew of 5-6 completed whole house insulation in 4 hours and 30 minutes Than clean up after they were done
- Stroker Ace
Today was the fourth and final day of a very large insulation project at our home. Each day had a different team with its own crew leader. Rachel, Justin, Cameron and Austin were the four...
- Donna Gerke
The lead Kaila was a rock star! She kept me informed all the way through. She was very informative! Everyone else did a great job and there is minimal cleanup on our part. The only complaint,...
- Candy Russell
Kayla and the team arrived sharp on time and worked through the entire house non-stop. She explained all the aspects I can think of and made me feel confident about the insulation they installed....
- Deo Ding
Had the entire exterior of our home insulated as well as blown insulation added to our attic. Team was on time, very professional, and got the job done quickly and cleaned everything up before...
- Bill Burns
We had USA INSULATION SE come and put insulation in our attic. They did a great job. Clean up was great!! The guys were very polite!
- R&R McIver
PATRICK and his team arrived right on time. Started the job very professional, answered all of my questions, insulated the walls in my home, and did my attic also. The cleanup was awesome you...
- Melvin Hicks
USA Insulation of SE Michigan proudly serves the following locations
Addison

Adrian

Albion

Allen

Allen Park

Blissfield

Brighton

Britton

Camden

Carleton

Cement City

Chelsea

Clarklake

Clayton

Clinton

Coldwater

Concord

Dearborn

Dearborn Heights

Deerfield

Detroit

Dexter

Dundee

Ecorse

Erie

Flat Rock

Grass Lake

Gregory

Grosse Ile

Hamburg

Hanover

Hillsdale

Homer

Horton

Ida

Inkster

Jasper

Jerome

Jonesville

La Salle

Lambertville

Leslie

Lincoln Park

Litchfield

Luna Pier

Manchester

Manitou Beach

Maybee

Melvindale

Michigan Center

Milan

Montgomery

Morenci

Mosherville

Munith

Napoleon

New Boston

New Hudson

Newport

North Adams

Northville

Norvell

Novi

Onondaga

Onsted

Ottawa Lake

Palmyra

Parma

Petersburg

Pinckney

Pittsford

Pleasant Lake

Plymouth

Quincy

Reading

Riga

River Rouge

Riverview

Rives Junction

Rockwood

Romulus

Saline

Sand Creek

Somerset Center

South Lyon

South Rockwood

Southgate

Spring Arbor

Springport

Stockbridge

Taylor

Tecumseh

Temperance

Tipton

Trenton

Waldron

Wayne

Westland

Weston

Whitmore Lake

Whittaker

Willis

Wixom

Wyandotte