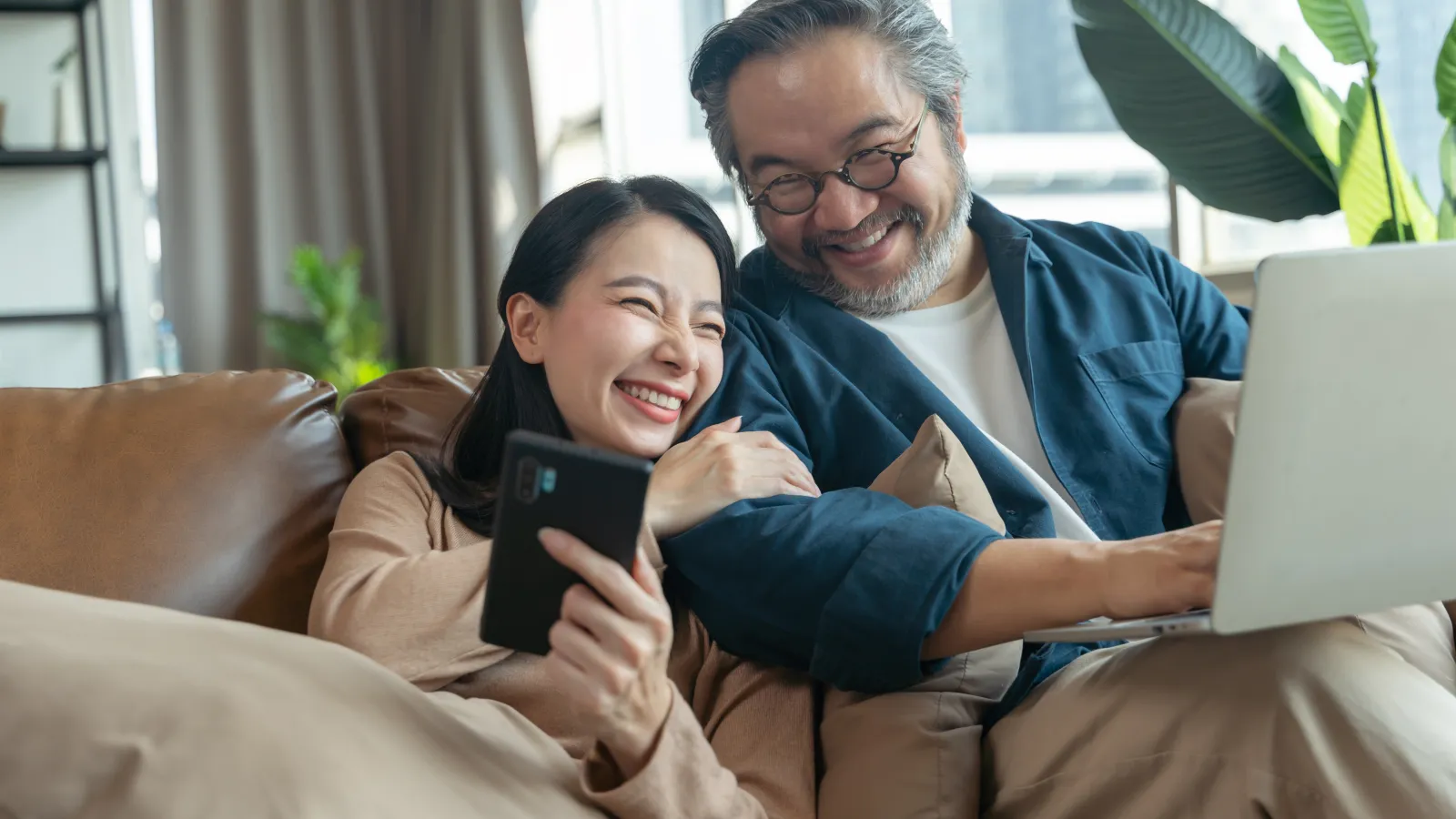 Philadelphia Insulation Services
Reinsulate Your Home in Philadelphia
with USA Insulation™
Insulation Service From Doylestown to Chester and Pottstown to Cherry Hill!
Interested in improving your energy efficiency, comfort, and savings? USA Insulation of Philadelphia is the solution! If your house or business isn't properly insulated, it will start to place more heating and cooling demands on your HVAC system, resulting in larger utility bills and a shorter system lifespan. We keep your property cool in the summer, warm in the winter, and comfortable year-round! More than that, our products are safe, healthy, and environmentally friendly, something competitors' products simply can't match. We offer our injected USA Premium Foam® Insulation for walls, blown-in insulation for attics, spray foam insulation for crawl spaces and basements, and other options.
USA Premium Foam Insulation® is also 100% American Made. Ready to set up your free energy consultation? Give us a call at 267.551.1900.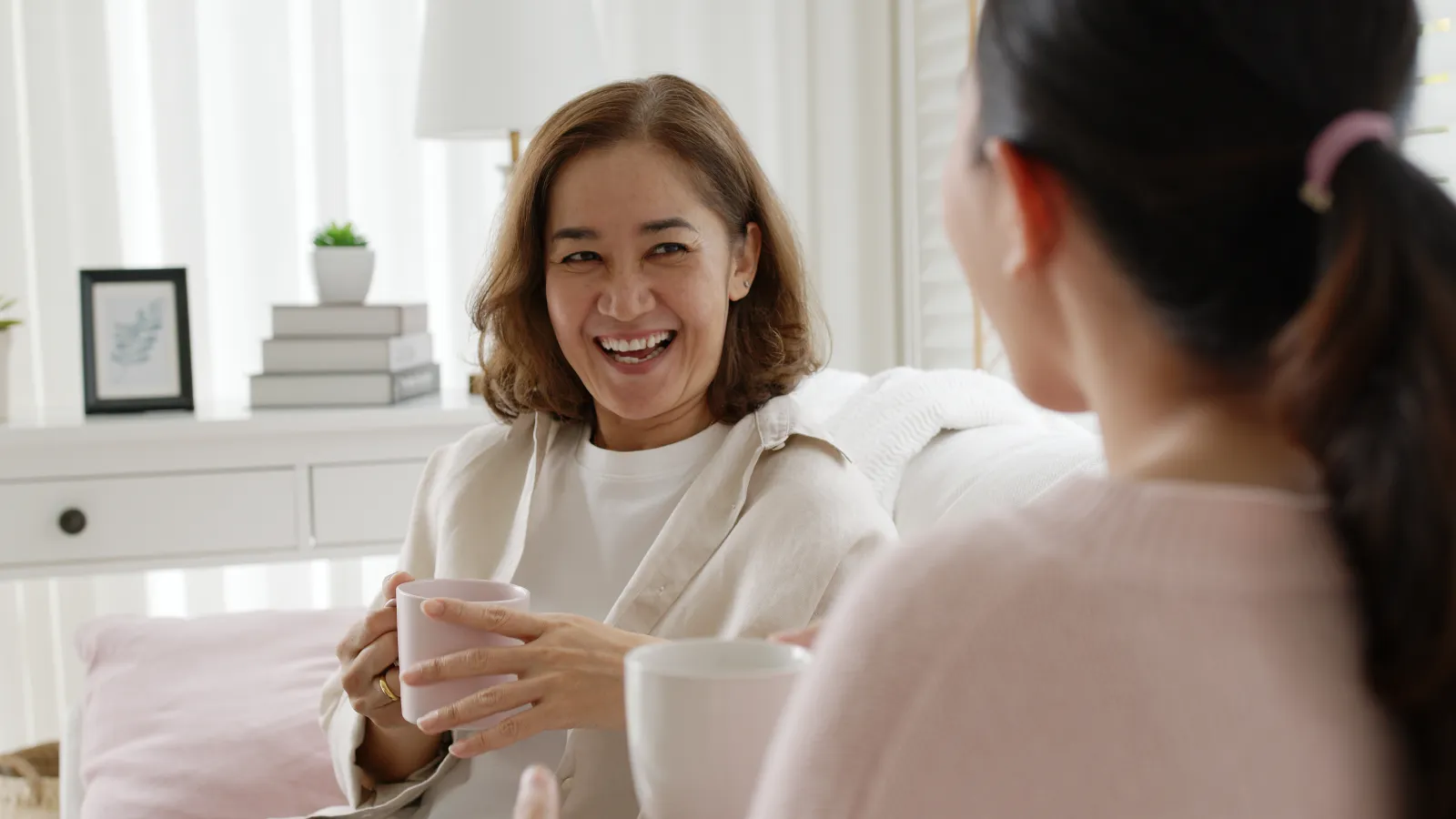 Quality Insulation Products,
Improved Comfort.

Does your home have trouble staying cool or warm? And do your energy bills never go down, despite having a perfectly functional heater or air conditioner? The real culprit might be the lack of insulation in your home. Did you know that 35% of your heat and air conditioning is lost through you walls. That's as much as your attic and windows combined! Without a protective layer of insulation in your walls, you're losing money, energy and comfort. That's where we come in. USA Insulation provides whole-home insulation solutions nationwide with our proprietary USA Premium Foam® Insulation. Our injection foam provides incredible benefits by creating a solid barrier between your home and the outside environment - a barrier that's extremely efficient and packed with other benefits.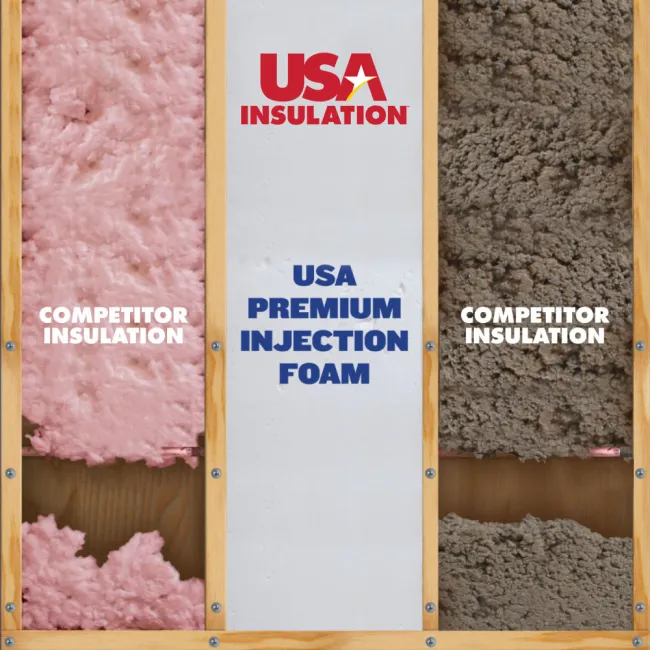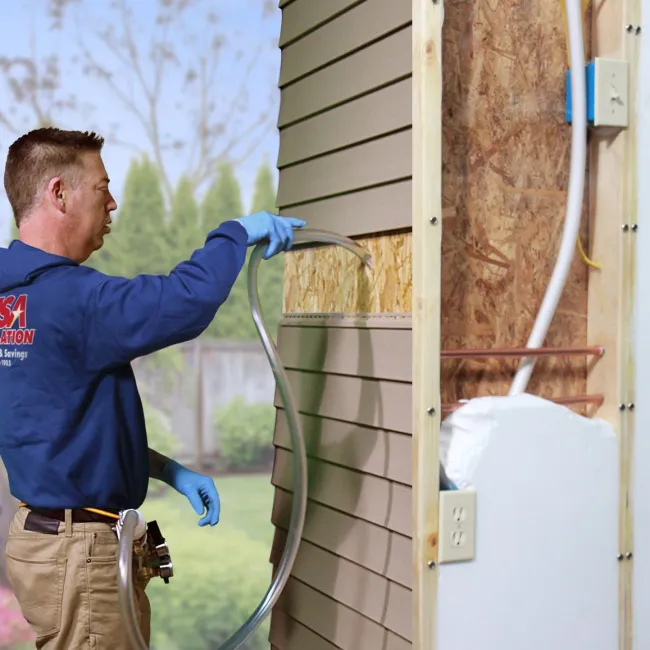 Injection Wall Foam
Used on both exterior walls and interior walls, USA Premium Injection Foam is second to none. It is injected into wall spaces with a fast application process, filling cracks and crevices that most other insulation products can't. The insulation fills spaces behind electrical and phone wires, pipes, electrical outlets, and other areas for maximum efficiency.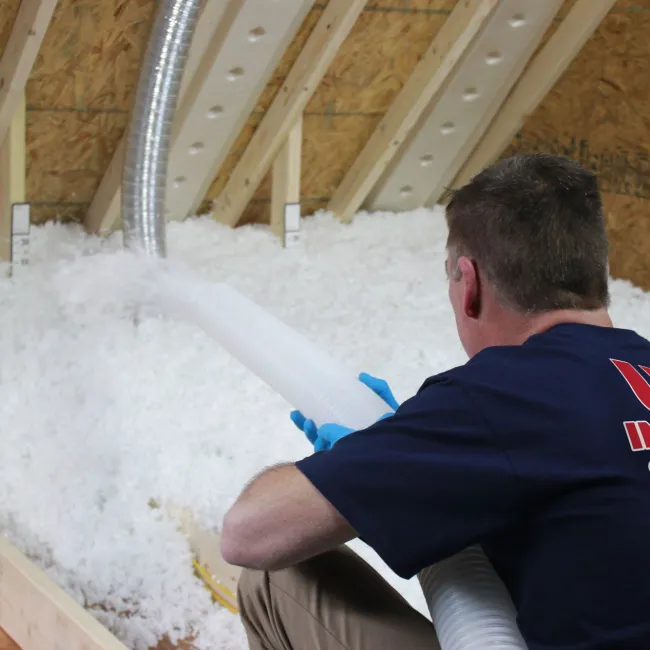 Blown-In Attic Insulation
When your attic is not properly insulated and ventilated, you can lose conditioned air quickly, making your home more difficult - and more expensive - to keep comfortable during the winter as well as the summer. In addition to letting heat escape during the cold winter months, a poorly insulated attic is a major contributing factor in the formation of ice dams, icicles, and mold growth, which can be both a health and safety hazard for your family and your property.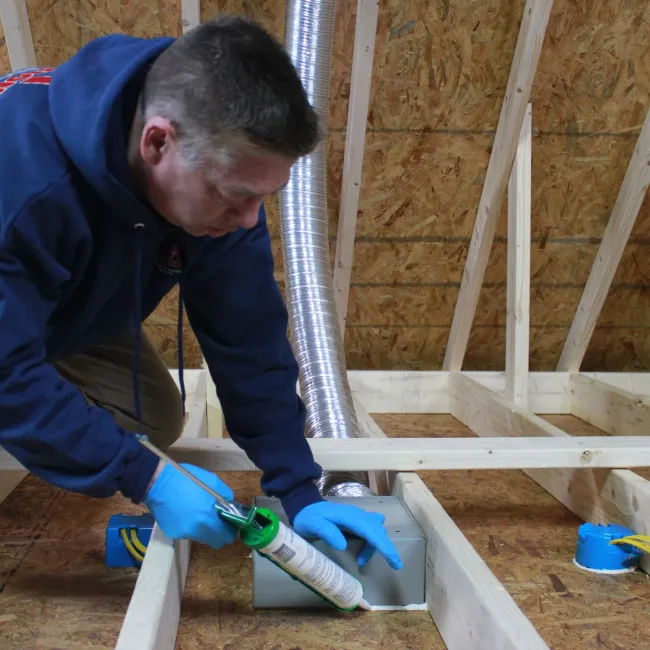 Air Sealing
Our highly skilled, trained, and experienced energy and insulation experts can come to your home to conduct our "Search and Seal" procedure. This process finds and targets the leaks that are hurting your home's energy efficiency, and seals them off for energy use reduction!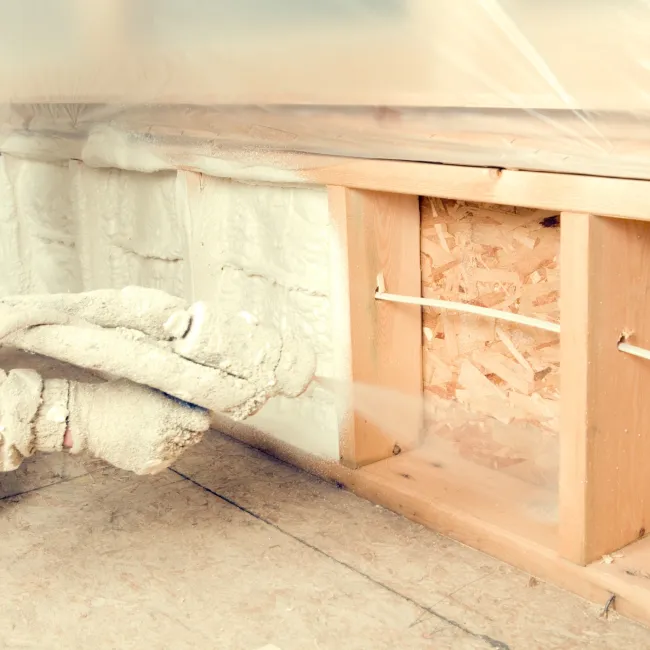 Spray Foam
Spray polyurethane foam (SPF) is an innovative foam plastic substance that is sprayed onto an open surface in paint-like form and then expands to create an insulating barrier against wind and outside temperatures. Once the insulation sets, it expands to create an insulation barrier against extreme temperatures and moisture.

Ready for a more comfortable home?

Let us test your home's energy efficiency for free. Request a free insulation inspection & estimate today.

Why do you need to
re-insulate your home or business?

10%
Energy Loss Through Windows
25%
Energy Loss Through Attic
35%
Energy Loss Through Walls
*15% of energy is lost through the basement & floor
Your Walls Waste More Energy Than You Think
If your home was built before 1980, that automatically makes you one of the 77 million Americans whose homes are insufficiently insulated, if they are insulated at all. Prior to 1980, there were no building codes for insulation minimums.
Latest
Promotions
0& Interest for 72 Months
For full home install at time of Apt. only
🎃 "Black cats prowl and owls hoot, Our finance deal is absolute! 0% for 72, it's a magic brew, tailored for you." Does not include spray foam. Cannot be combined with any other offers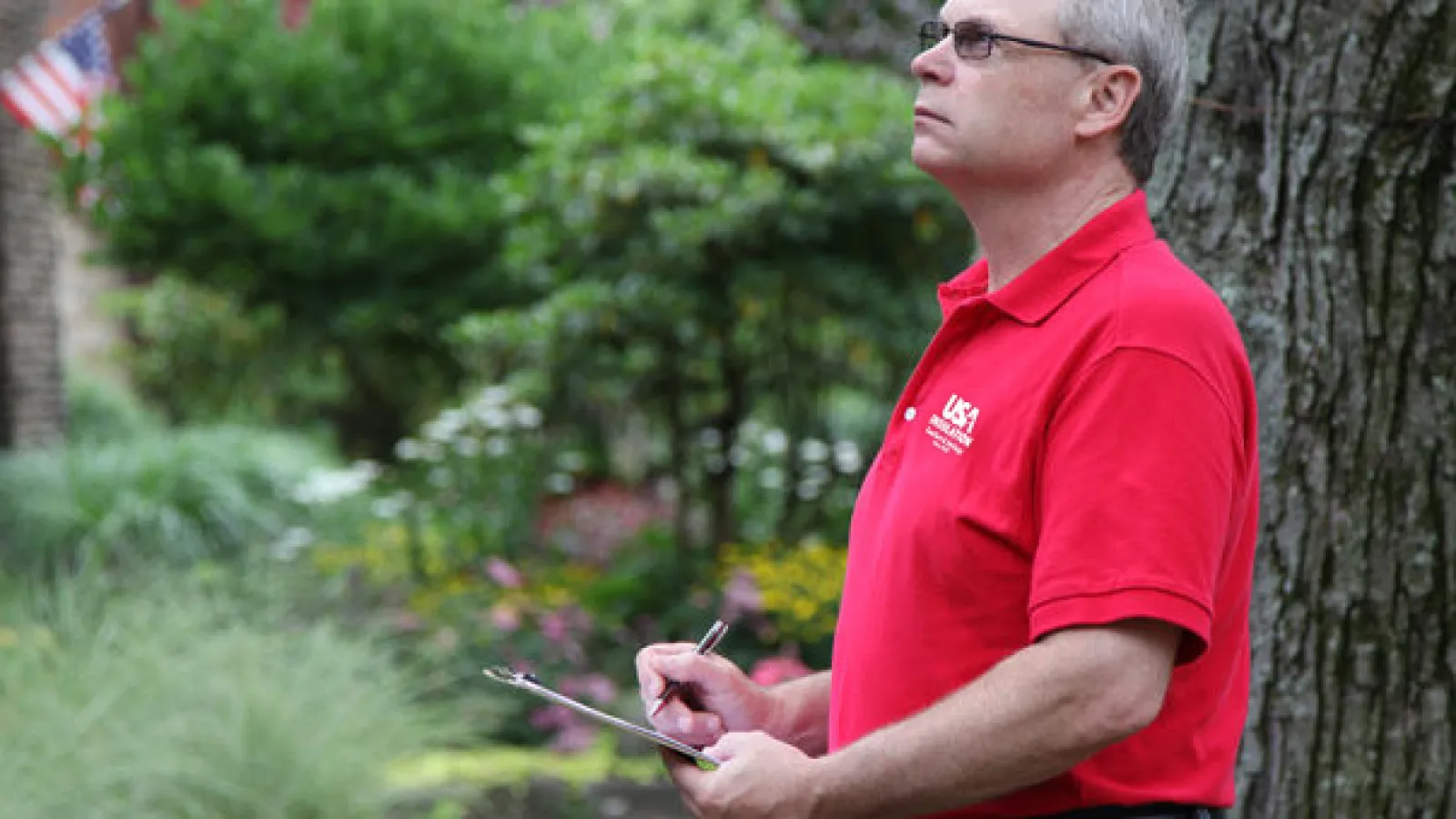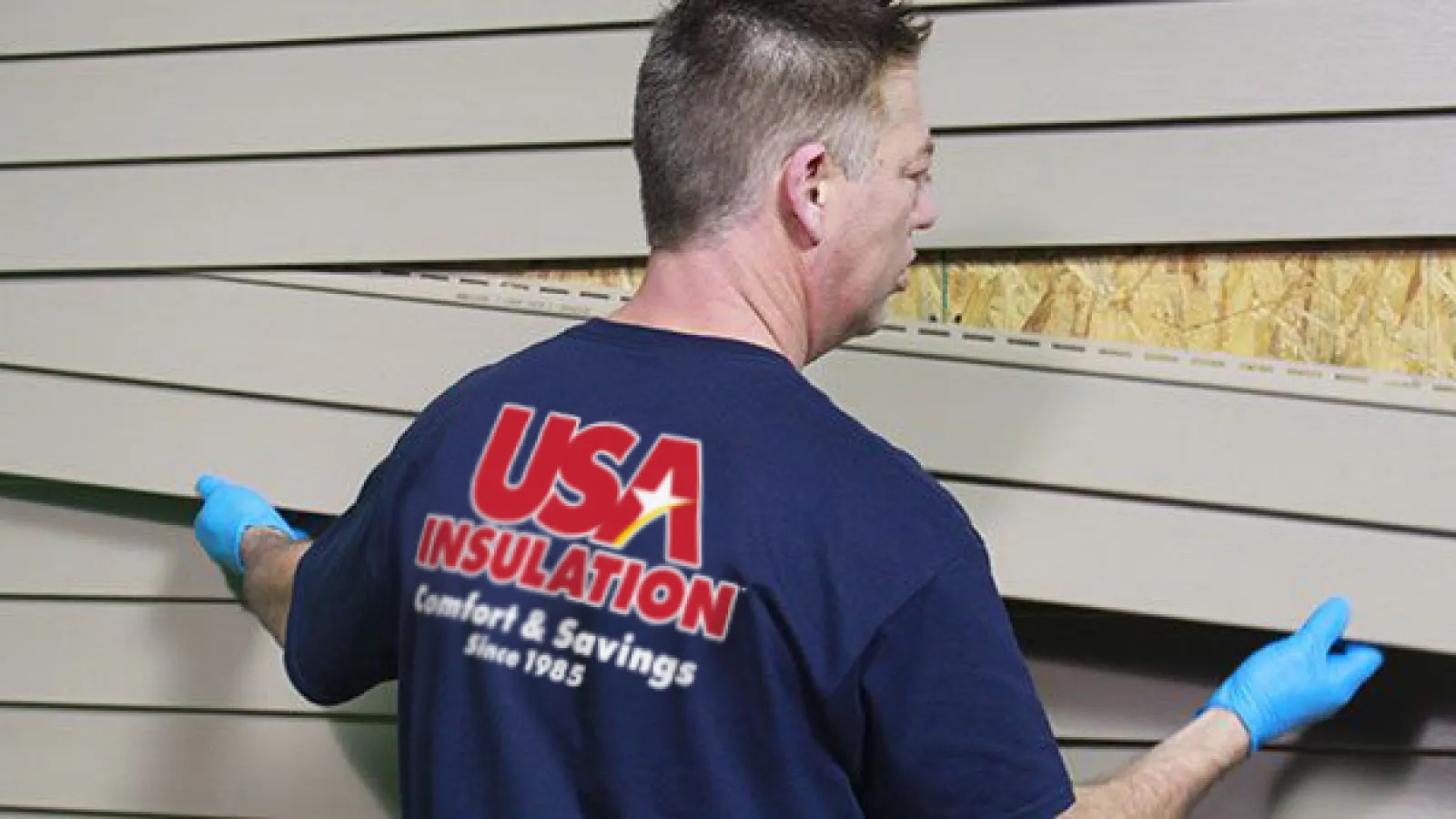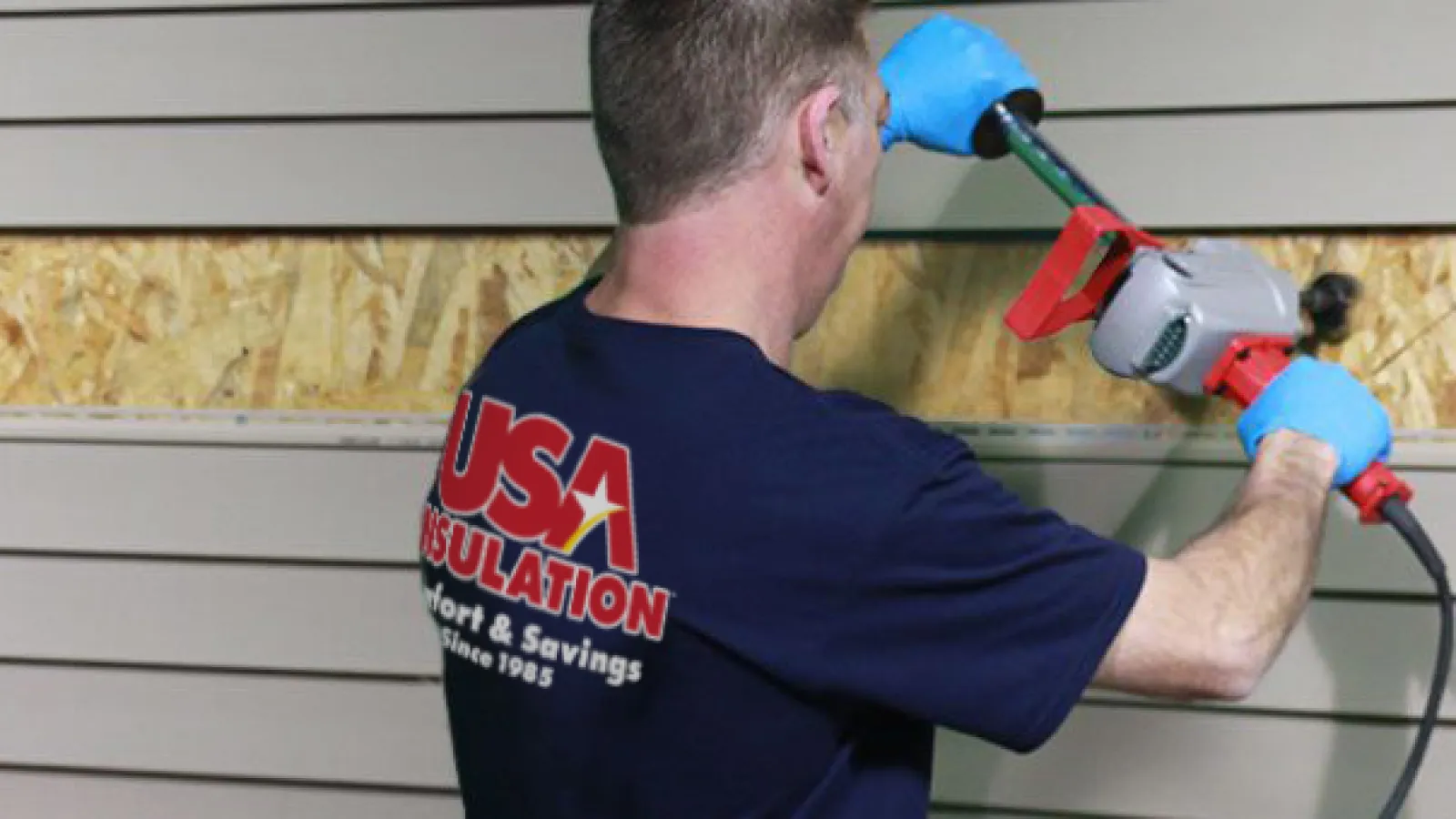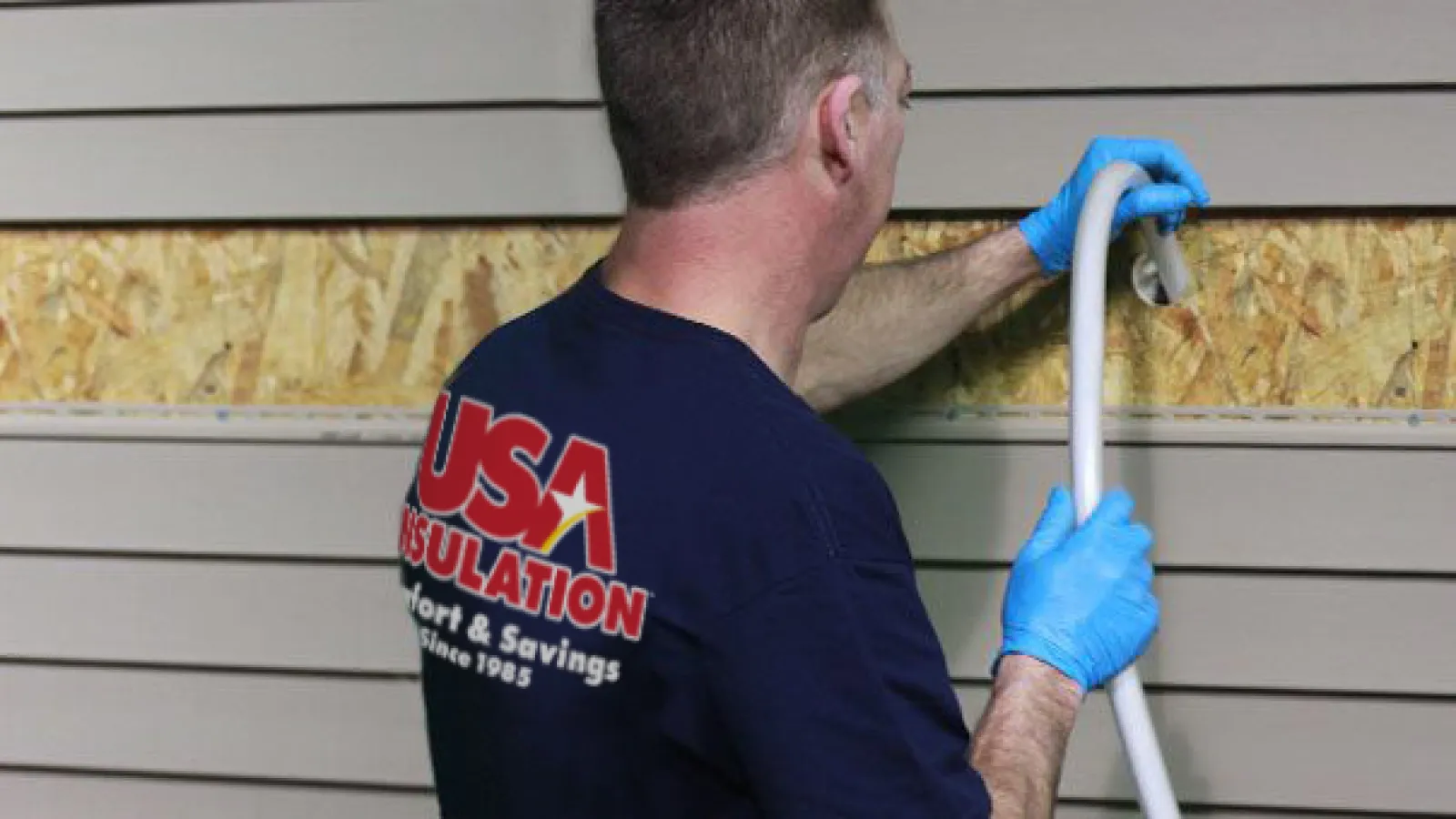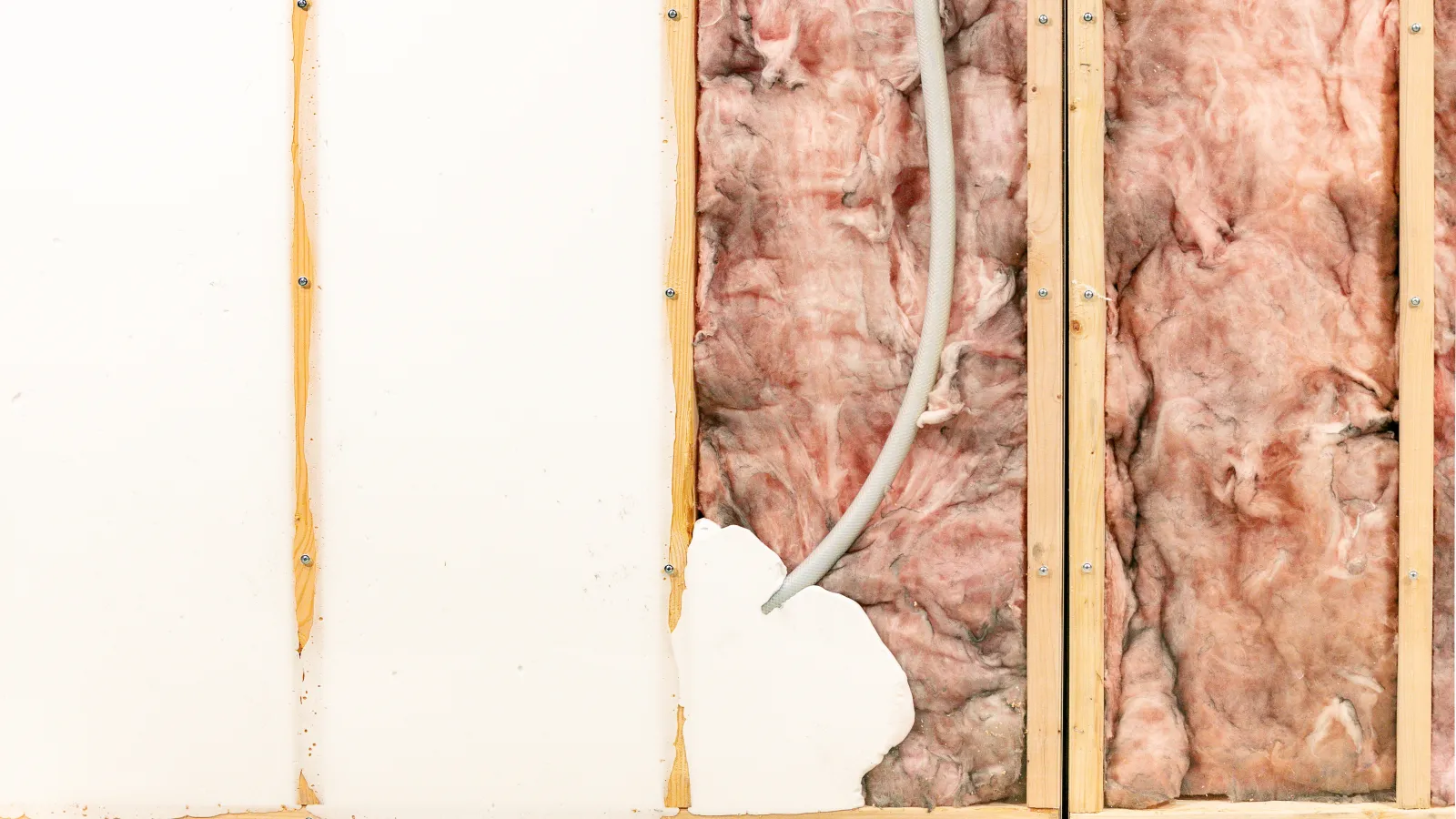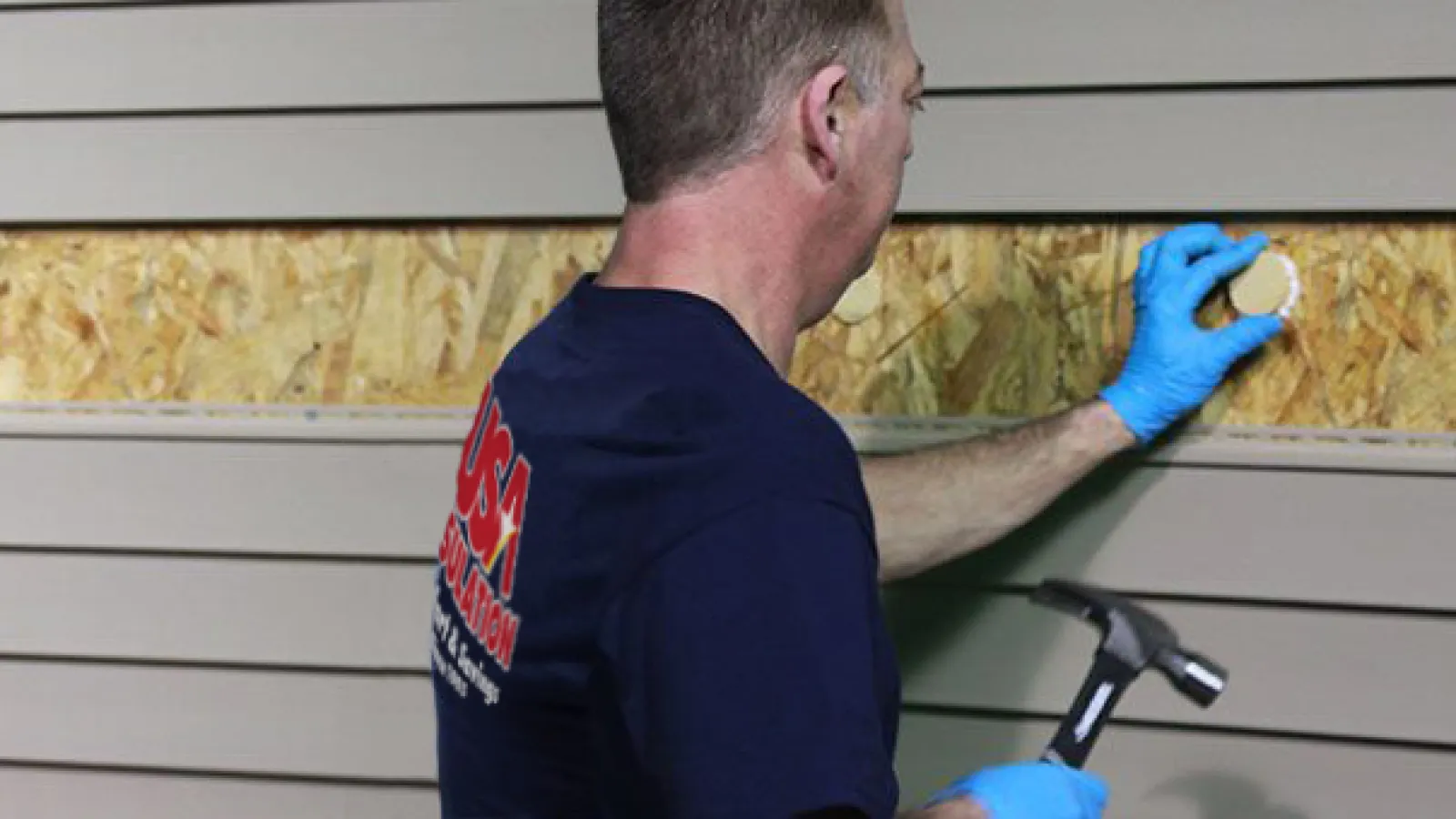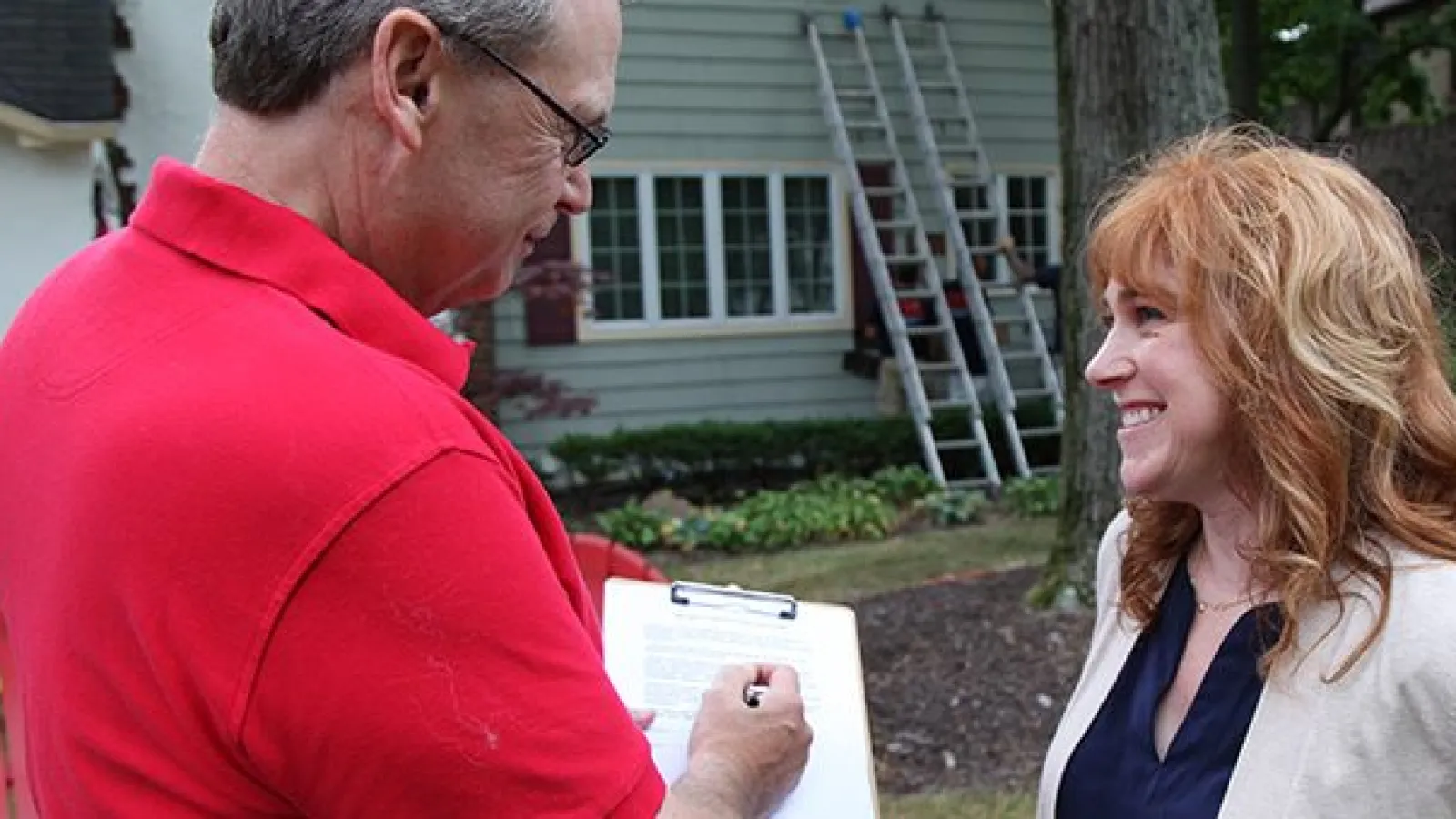 Pre-Installation Walkthrough

On installation day, we'll start by walking through the interior and around the exterior of your home together, explaining our process and what to expect.

Remove Siding

For homes with side paneling, we remove them on each section of wall.

Drill Holes
Next, we drill small holes between each wall stud along the side of the home. For homes with brick, we'll drill holes in the mortar to access the wall.

Inject Foam
After drilling holes, we then insert a tube through the holes into the wall cavity and begin to pump in our USA Premium Foam Insulation.

Fill Wall Cavities
We fill the wall cavity with the injection foam and it squeezes between gaps and crevices, forming an effective barrier. The insulation product hardens within minutes!

Plug Holes & Reinstall Siding
After insulating, we plug each hole, or cover with matching mortar, and return the siding to the home with no visible difference. It'll look like we were never there.

Post-Installation Walkthrough
We'll walk back through the interior and around the exterior with you, showing you exactly what we did and ensure that the finished product and clean-up meet your satisfaction.

Some Thoughts From Our
Awesome Customers
I'm extremely pleased with the insulation that i did in my home. Has made a real difference and my heating and air conditioning. I have nothing but good ever since i did the insulation. They're...
- Linda Rebstock
Had USA Insulation come out to our home to add some new insulation in our walls. They were very professional, quick, and cleaned up after themselves. Can't even tell they were here to do any work!...
- Lindsey Milicia
Customer satisfaction driven professionals! The two men that serviced my home were courtesy, polite and experienced. Thank you
- Lawrence Ryder
On time efficient employees who completed the foam insulation of my enclosed porch. From the moment of completion, I could feel the change in temperature of the enclosed porch. It is very warm...
- Lynette Jackson
The whole thing was easy and painless showed up on time. Product worked great to sound proof and insulate the walls in bedroom and laundry room. I will ask them to come back for dinning room.
- Tony Bonadonna
We just got a whole home package. By the time 30% of the insulation was applied we noticed significant noise reduction. When completed, the reduction of outside noise is amazing. The biggest...
- Andrew Burroughs
Very professional. In & out quickly and left every clean. I would recommend them to anyone.
- Kathleen Gallagher
I contracted this company for injection foam insulation in three rooms of our home this winter. The difference in room temperature and comfort was noticeable that night. We are now going to bring...
- Christopher Hopkins
We hired USA Insulation to come and inject our 2 story house. On the day of, the process went smoothly; however, the next day we learned that two of our AC vents were 100% blocked. At first, we...
- Laura Roman
My mothers experience with USA Insulation was superb!! She was greatly satisfied with the timeliness, the professionalism, and the work as a whole. Not one negative comment at all. Will...
- EM Smith
USA Insulation of Philadelphia proudly serves the following locations
Abington

Ambler

Ardmore

Aston

Bensalem

Berwyn

Blue Bell

Bridgeport

Bristol

Brookhaven

Broomall

Bryn Mawr

Carversville

Chalfont

Cheltenham

Chester Springs

Cheyney

Coatesville

Collegeville

Colmar

Conshoshocken

Croydon

Devon

Downingtown

Doylestown

Dresher

Dublin

East Greenville

Elkins Park

Elverson

Exton

Fairless Hills

Feasterville Trevose

Flourtown

Fort Washington

Fountainville

Frederick

Furlong

Gilbertsville

Gladwyne

Glen Mills

Glenmoore

Glenside

Green Lane

Gwynedd

Gwynedd Valley

Harleysville

Hatboro

Hatfield

Haverford

Havertown

Hilltown

Honey Brook

Horsham

Huntingdon Valley

Jamison

Jenkinstown

Lafayette Hill

Lahaska

Langhorne

Lansdale

Levittown

Line Lexington

Lumberville

Malverne

Media

Mont Clare

Montgomeryville

Morrisville

Narberth

New Hope

Newtown

Newtown Square

Norristown

North Wales

Oreland

Ottsville

Paoli

Pennsburg

Perkasie

Perkiomenville

Phoenixville

Pipersville

Plymouth Meeting

Pottstown

Quakertown

Red Hill

Richboro

Richlandtown

Royersford

Schwenksville

Sellersville

Souderton

Southampton

Spring City

Spring House

Springfield

Swarthmore

Telford

Thorndale

Thornton

Villanova

Wallingford

Warminster

Warrington

Washington Crossing

Wayne

West Chester

Willow Grove

Woodlyn

Wyncote

Wynnewood

Zieglerville