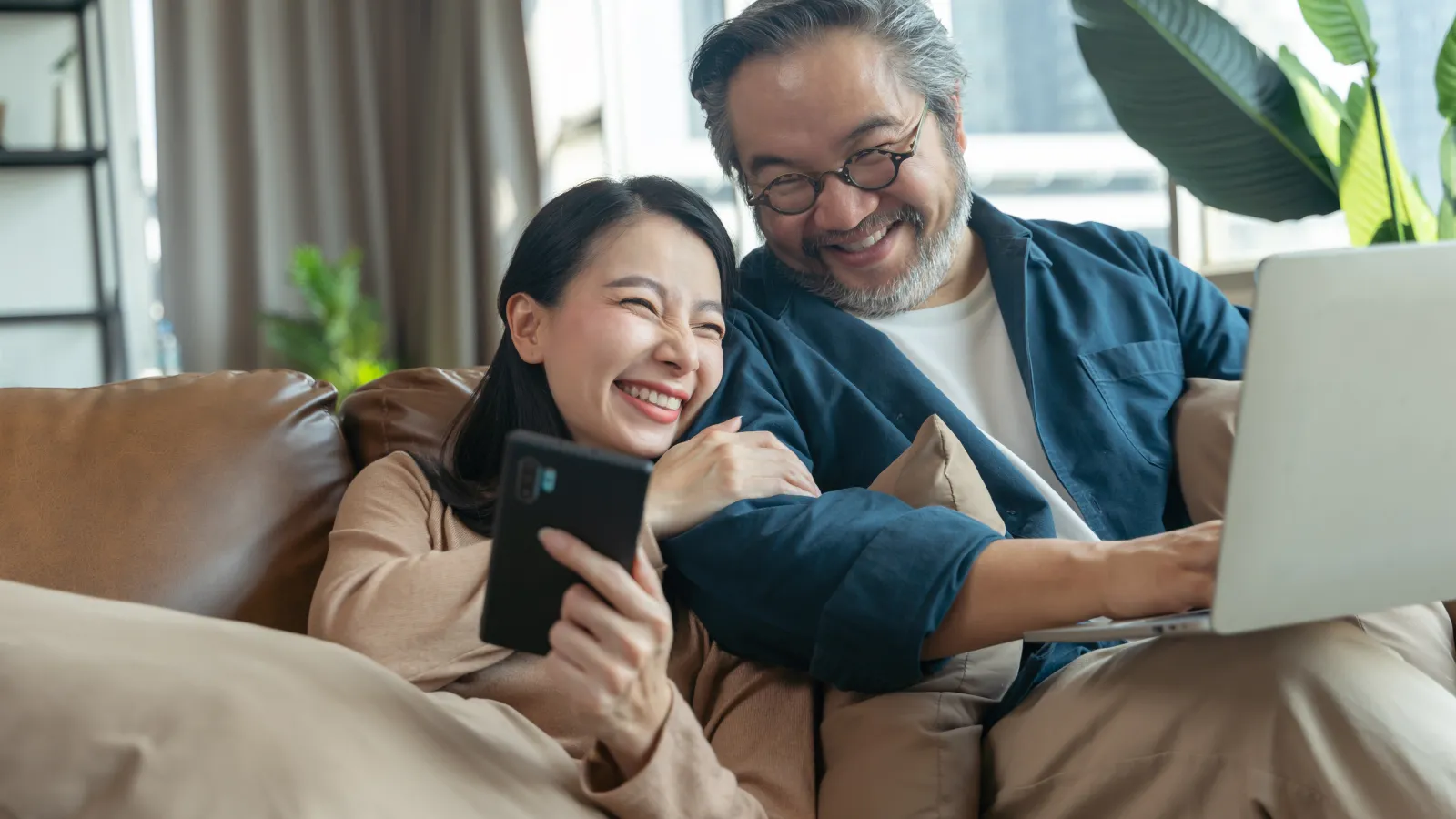 Toledo Insulation Services
Reinsulate Your Home in Toledo
with USA Insulation™
Insulation Experts Serving Ada, Ottawa, Woodville & Beyond
If you are tired of coming home to a household that is too cold, too hot, or just not efficient, it is time to call on the experts at USA Insulation of Toledo. We take pride in providing top quality insulation installation to customers throughout Arcadia, Genoa, Napoleon, Findlay, Walbridge, and surrounding areas. Our goal is to help you maximize your energy efficiency, comfort, and savings! If you would like to have premium quality insulation in your home or building, our Toledo insulation experts are ready to help. We have been serving clients across the nation for 35+ years here at USA Insulation. In those three decades, we have upheld an impressive track record of client satisfaction.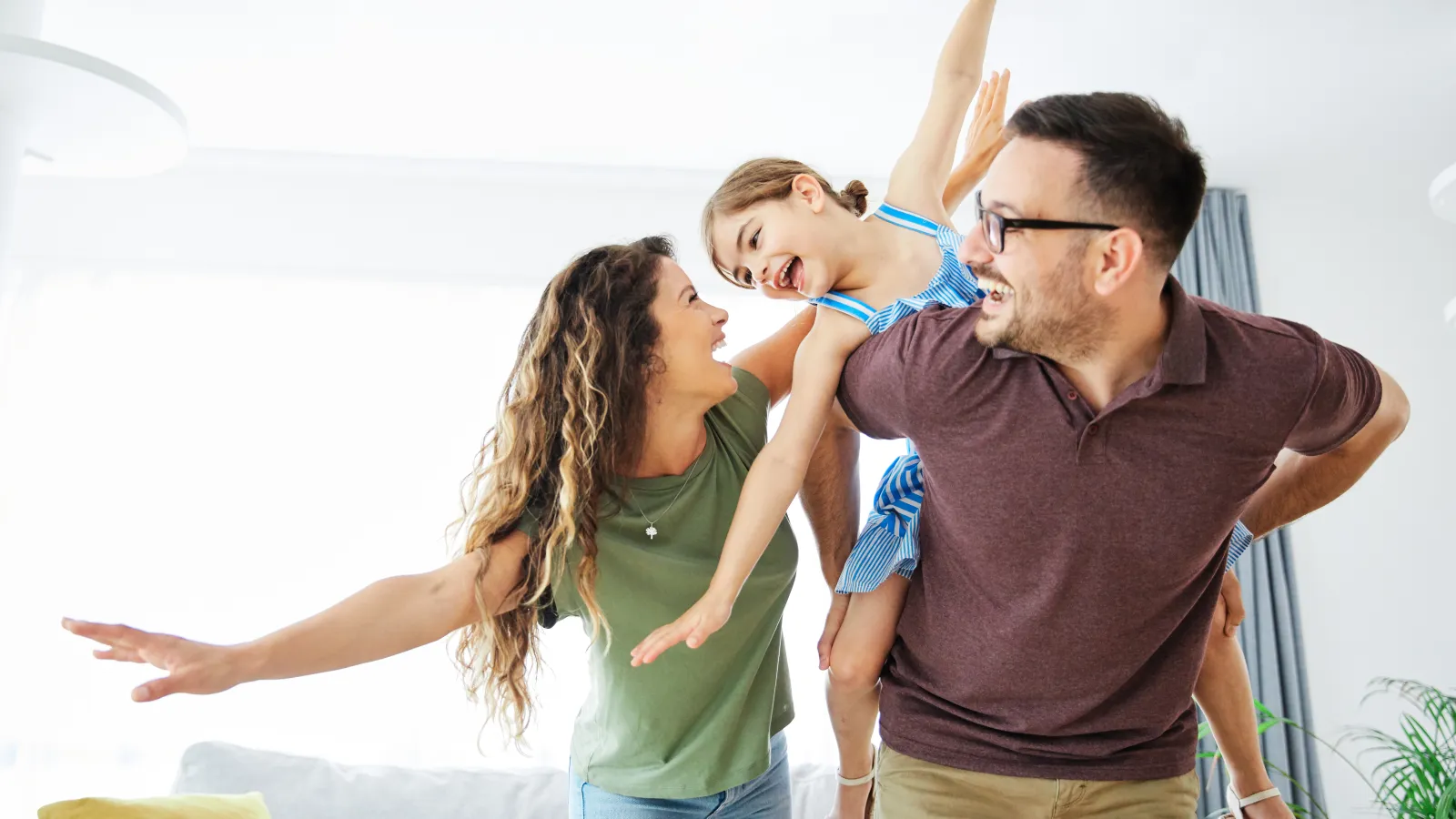 Quality Insulation Products,
Improved Comfort.

When you want insulation that protects you from the heat in the summer and cold in the winter, USA Insulation of Toledo has you covered. Our superior quality insulation products provide maximum energy efficiency, are safe for you and the environment, and are some of the most effective sound insulators on the market. Our insulation technicians are on a mission to improve comfort, energy efficiency, and savings for business and homeowners throughout the area. Backed by over 38 years of service in the insulation industry, USA Insulation is a name you can trust.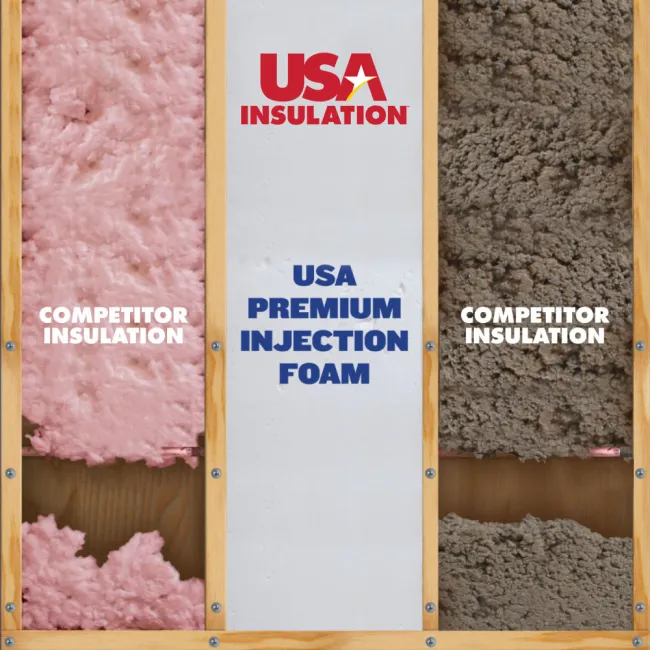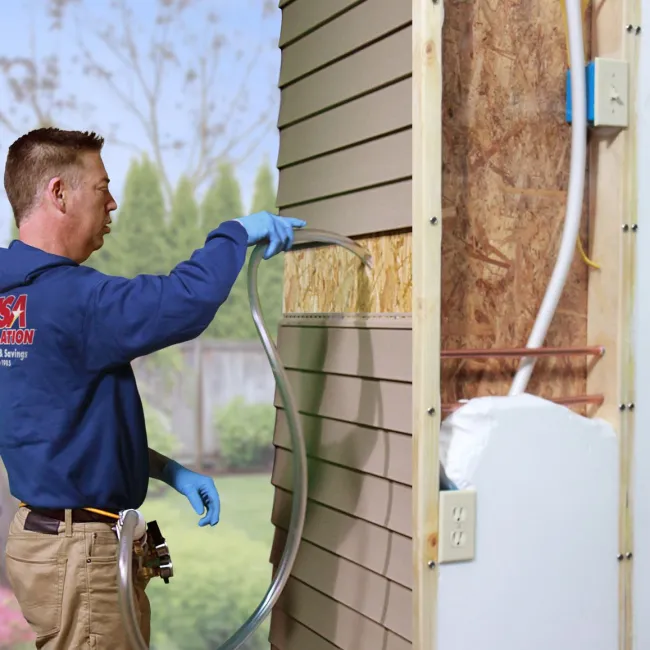 Injection Wall Foam
Used on both exterior walls and interior walls, USA Premium Injection Foam is second to none. It is injected into wall spaces with a fast application process, filling cracks and crevices that most other insulation products can't. The insulation fills spaces behind electrical and phone wires, pipes, electrical outlets, and other areas for maximum efficiency.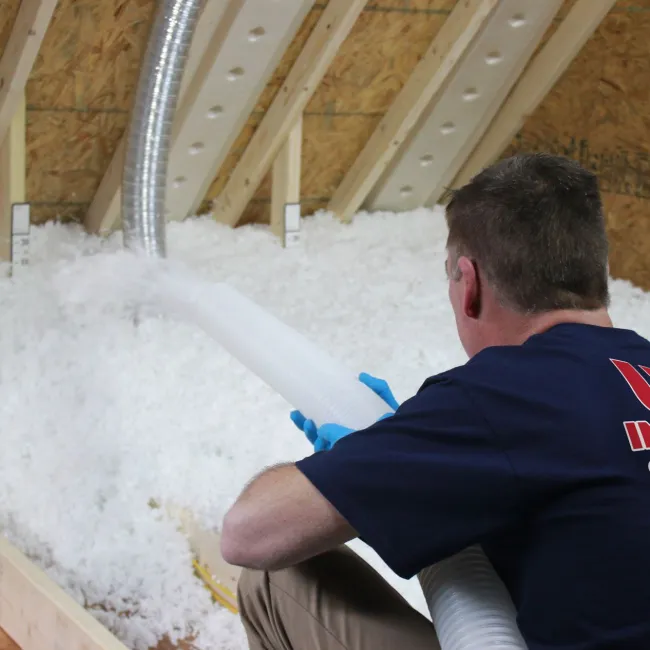 Blown-In Attic Insulation
When your attic is not properly insulated and ventilated, you can lose conditioned air quickly, making your home more difficult - and more expensive - to keep comfortable during the winter as well as the summer. In addition to letting heat escape during the cold winter months, a poorly insulated attic is a major contributing factor in the formation of ice dams, icicles, and mold growth, which can be both a health and safety hazard for your family and your property.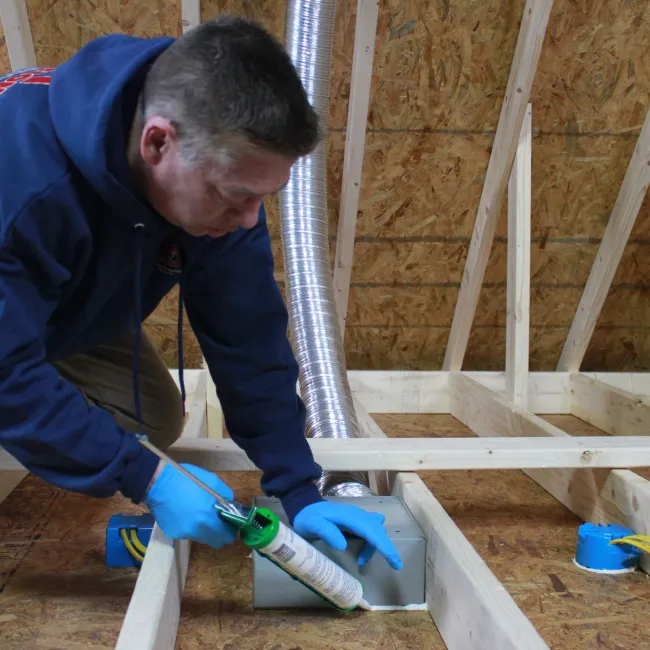 Air Sealing
Our highly skilled, trained, and experienced energy and insulation experts can come to your home to conduct our "Search and Seal" procedure. This process finds and targets the leaks that are hurting your home's energy efficiency, and seals them off for energy use reduction!

Spray Foam
Spray polyurethane foam (SPF) is an innovative foam plastic substance that is sprayed onto an open surface in paint-like form and then expands to create an insulating barrier against wind and outside temperatures. Once the insulation sets, it expands to create an insulation barrier against extreme temperatures and moisture.


Ready for a more comfortable home?

Let us test your home's energy efficiency for free. Request a free insulation inspection & estimate today.

Why do you need to
re-insulate your home or business?

10%
Energy Loss Through Windows
25%
Energy Loss Through Attic
35%
Energy Loss Through Walls
*15% of energy is lost through the basement & floor
Your Walls Waste More Energy Than You Think
If your home was built before 1980, that automatically makes you one of the 77 million Americans whose homes are insufficiently insulated, if they are insulated at all. Prior to 1980, there were no building codes for insulation minimums.
Latest
Promotions
Free Attic
With whole home insulation.
Does not include spray foam. May not be combined with other offers.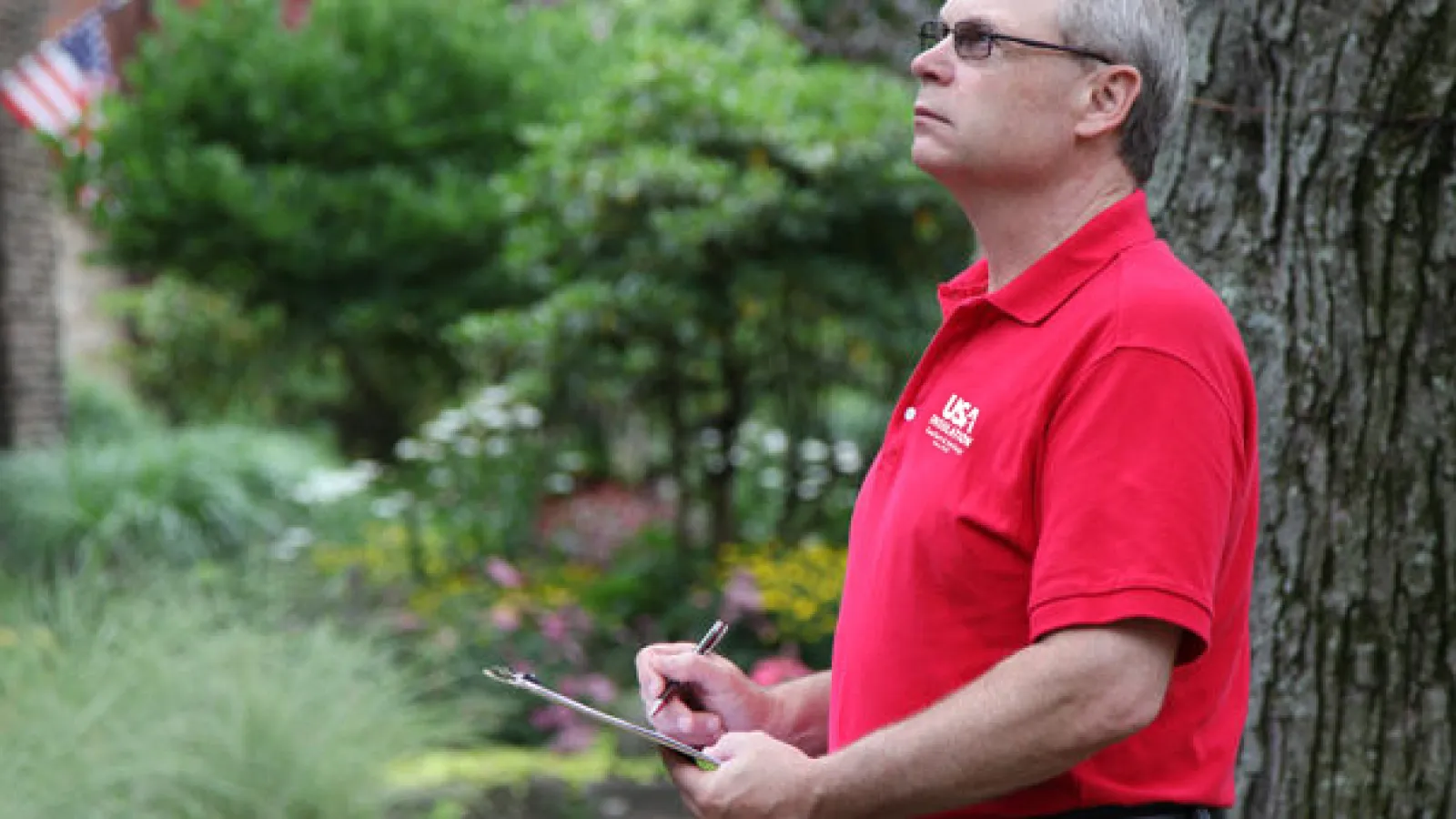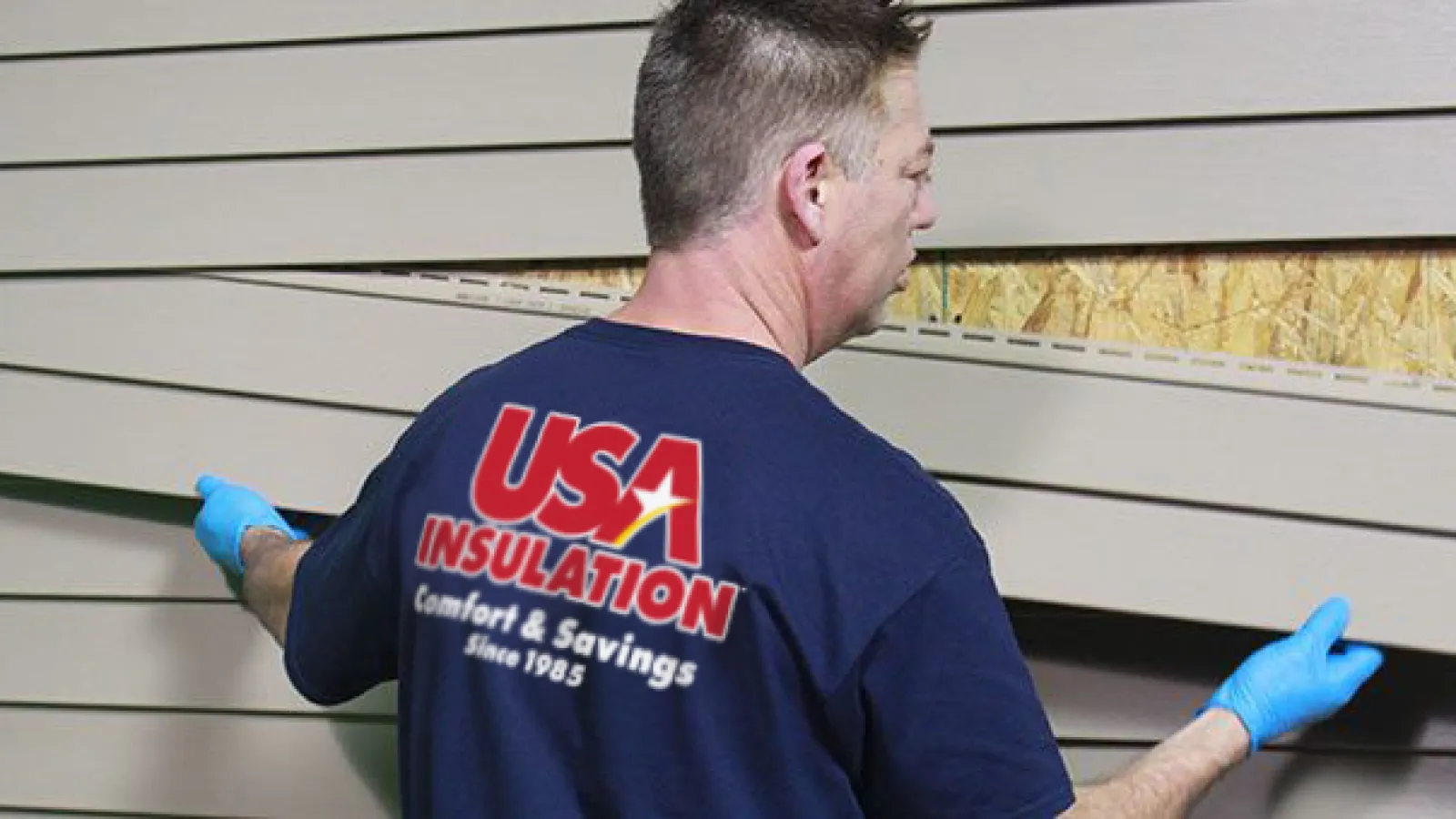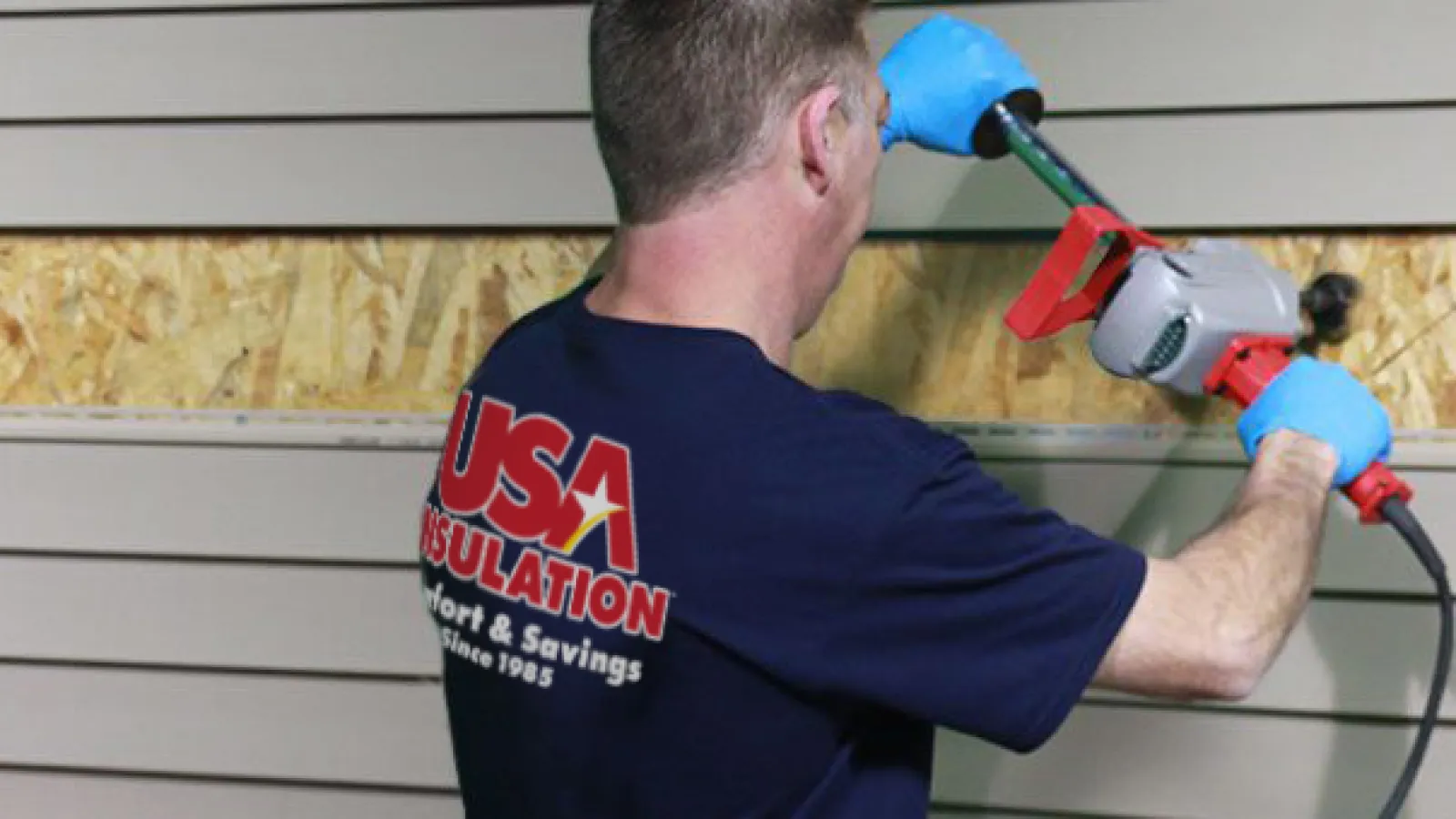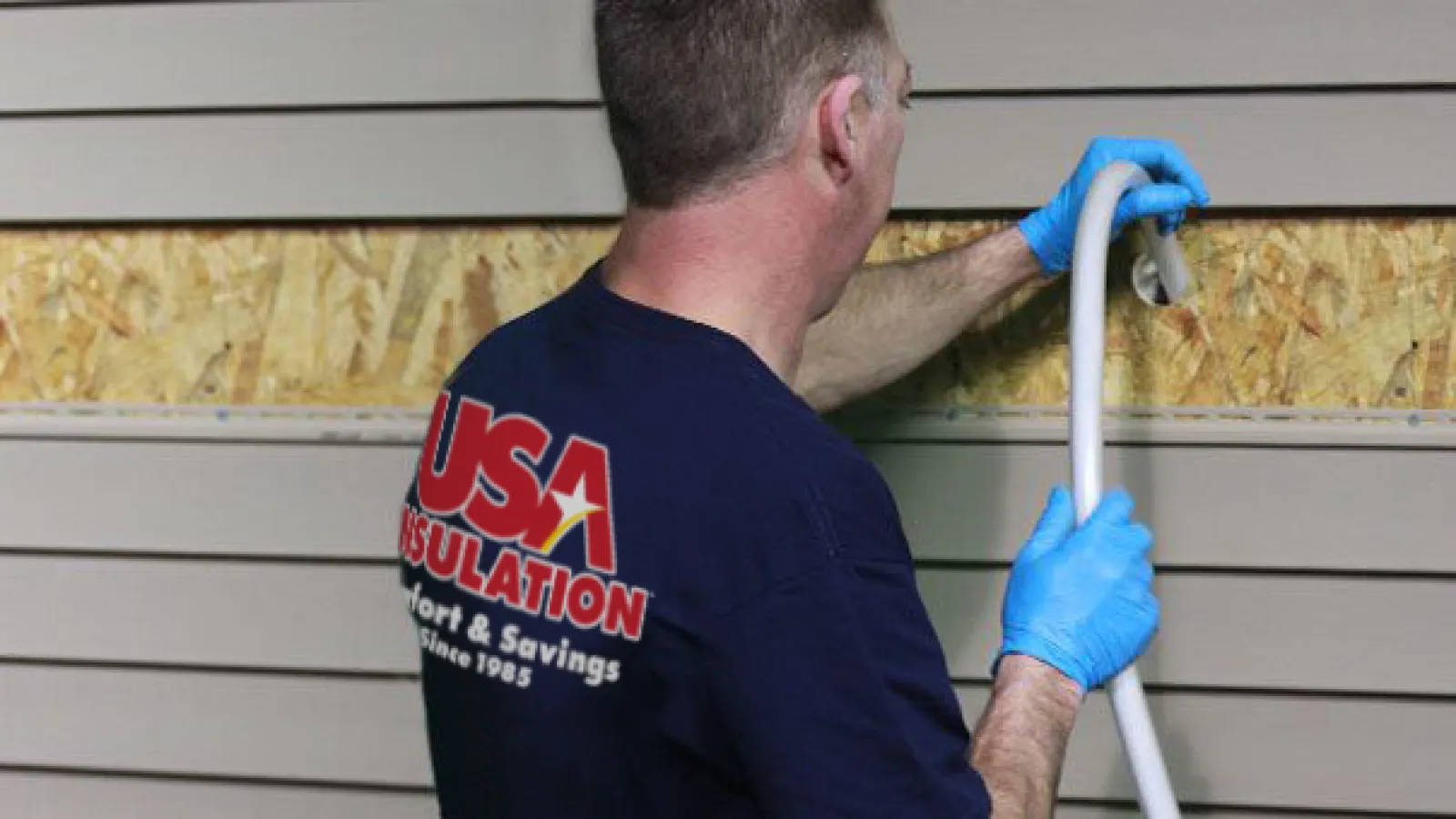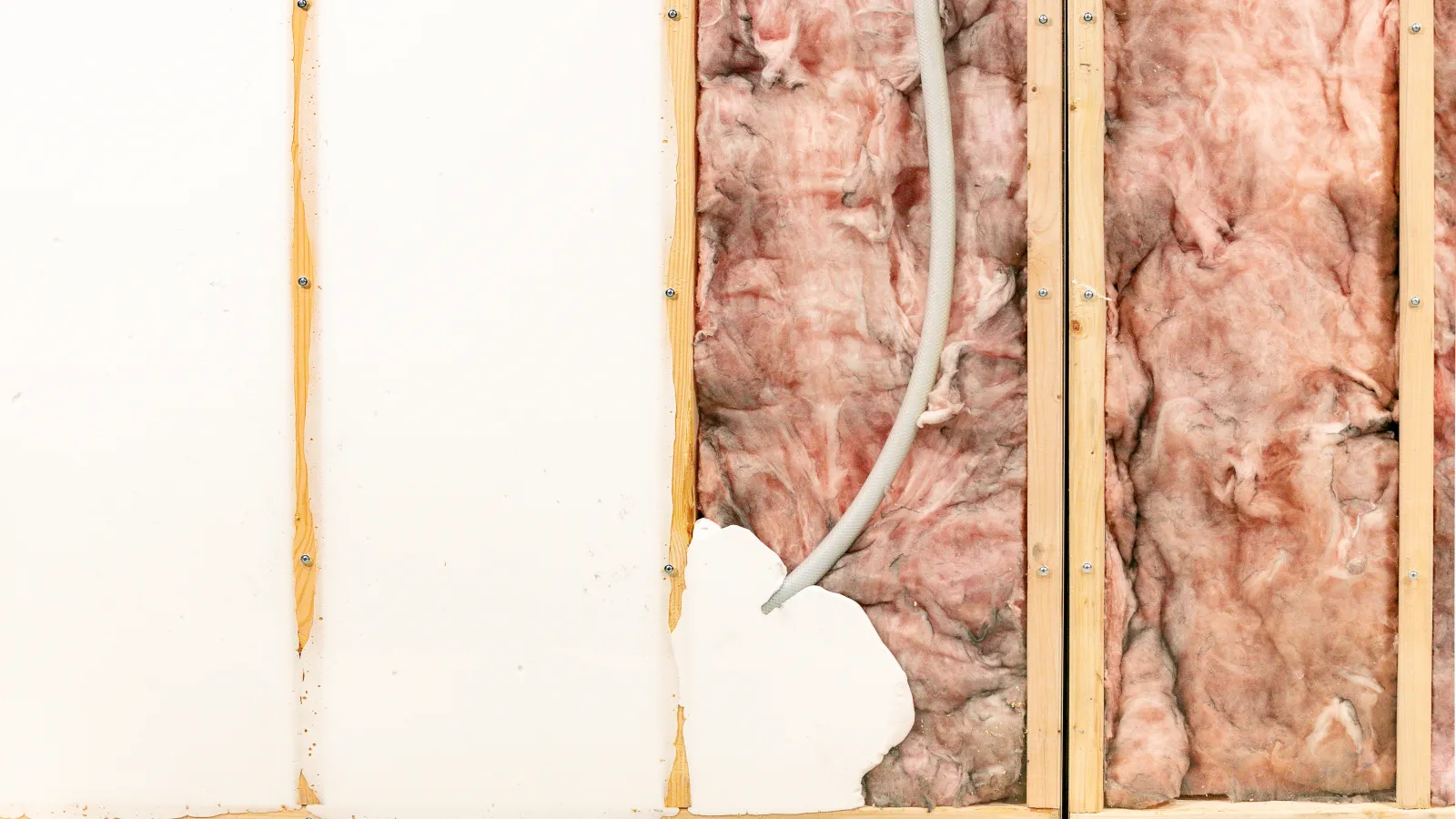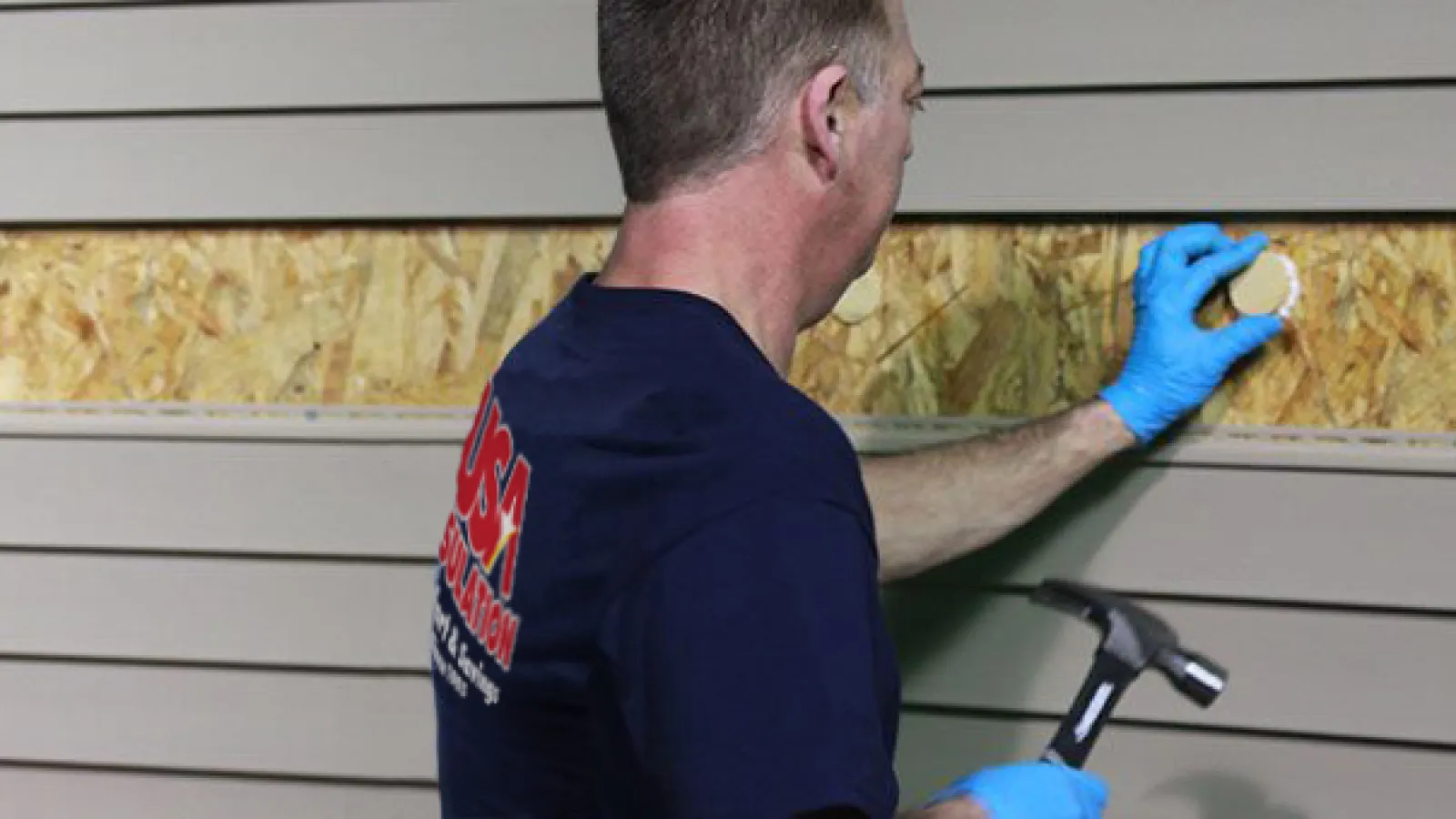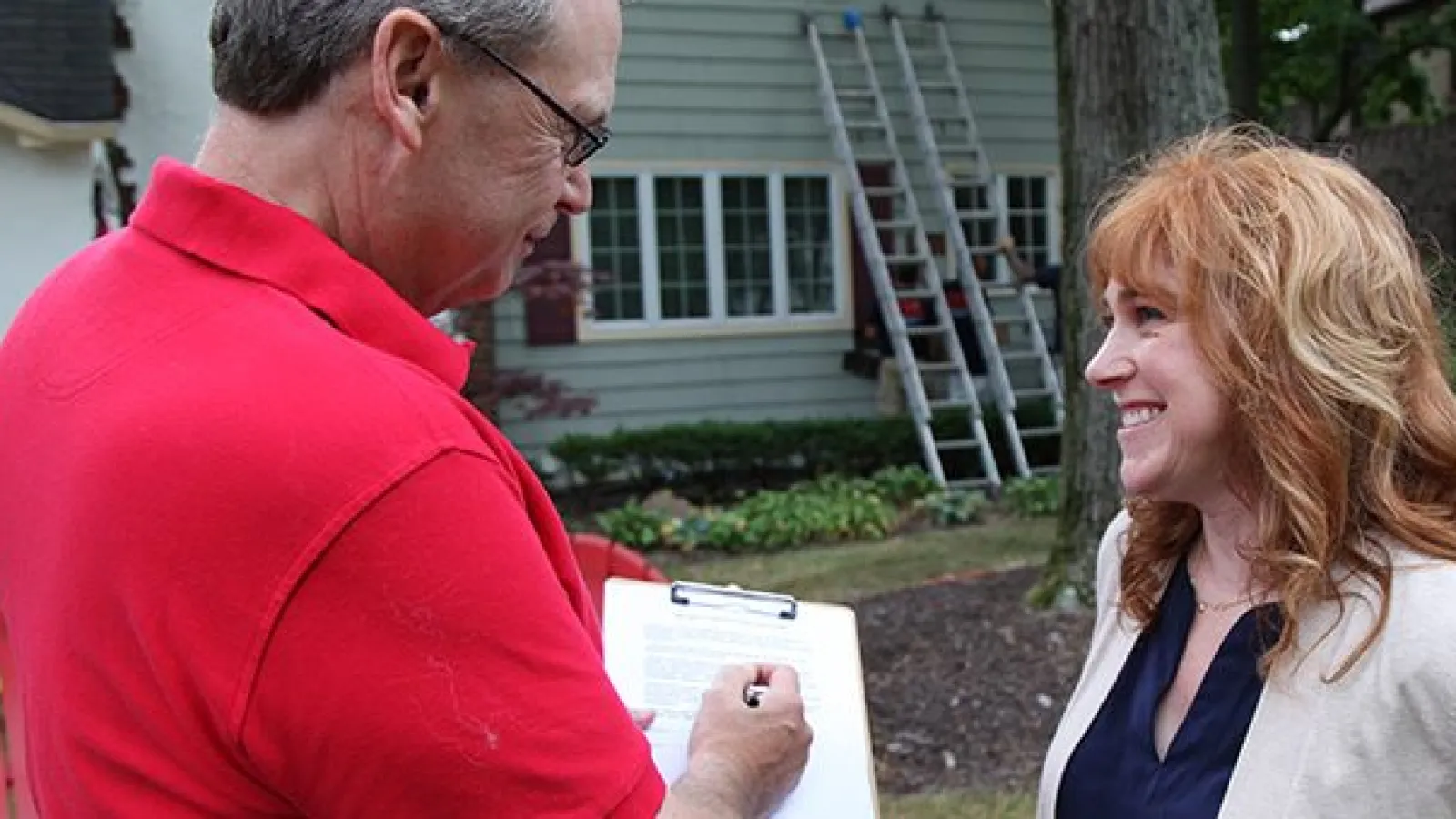 Pre-Installation Walkthrough
On installation day, we'll start by walking through the interior and around the exterior of your home together, explaining our process and what to expect.

Remove Siding

For homes with side paneling, we remove them on each section of wall.

Drill Holes
Next, we drill small holes between each wall stud along the side of the home. For homes with brick, we'll drill holes in the mortar to access the wall.

Inject Foam
After drilling holes, we then insert a tube through the holes into the wall cavity and begin to pump in our USA Premium Foam Insulation.

Fill Wall Cavities
We fill the wall cavity with the injection foam and it squeezes between gaps and crevices, forming an effective barrier. The insulation product hardens within minutes!

Plug Holes & Reinstall Siding
After insulating, we plug each hole, or cover with matching mortar, and return the siding to the home with no visible difference. It'll look like we were never there.

Post-Installation Walkthrough
We'll walk back through the interior and around the exterior with you, showing you exactly what we did and ensure that the finished product and clean-up meet your satisfaction.

Some Thoughts From Our
Awesome Customers
We won the USA Insulation Hometown Hero giveaway. The team came in and was ready to go! Everyone was EXTREMELY friendly and helpful. Every question that we had was answered thoroughly. They...
- Alyssa Walberg
USA insulation did an amazing Job today. Keith in truck 2 and his team insulated my entire house all 3 stories .. at the beginning of the day my anxiety was through the roof . But quickly put me...
- Justin Kuhlman
My experience with USA Insulation was top-notch! Starting with the sales to the crew, I felt very comfortable with every one who came to my home and worked on my project. I am so appreciative of...
- Janet Strausbaugh
My home was built in 1964 and we had replaced windows, doors and got siding for our home. We desperately needed insulation. So we called USA Insulation. On 7/24/2023 I had Orion and crew,...
- Frances Cox
I just want to say that the crew leader named Keith (truck 2) and his entire crew were awesome!!!! Work was totally clean and left the house as if it had never been touched. My wife and I were...
- Carey Christenson
Pat, Craig, Keith, Chuck, and Angela did a fantastic job. Pat was right on time to provide an estimation of the foam insulation on 2 walls. Craig came along a few minutes later. To my surprise,...
- Cassandra Reichow
USA Insulation did an amazing job from start to finish. First Tara came to give me a quote she was on time, very knowledgeable about instillation and explained everything to me. She also priced...
- Adrianne Beneteau
"Thank you so much"....Orion and Truck 5 for coming out and insulating my home and the attic. I really appreciate the professionalism that was provided along with explaining every detail of the...
- Tameka A.
Great experience! Sales guy Adam was fantastic, and personable. Training sales Stephen did great. Both made me confident in the company and my purchase. Install team lead Cameron did a great job...
- Kristen Chapman
Keith and crew showed up about 15 minutes early, They helped my move some things in my garage. And I really appreciate it because I'm disabled and my husband was at work.. Keith explained...
- Rose Morrison
USA Insulation of Toledo proudly serves the following locations
Ada

Alvada

Alvordton

Antwerp

Arcadia

Archbold

Arlington

Attica

Bascom

Beaverdam

Bellevue

Benton Ridge

Berkey

Bettsville

Blakeslee

Bloomdale

Bloomville

Bluffton

Bradner

Bryan

Burgoon

Cairo

Carey

Castalia

Cecil

Clay Center

Cloverdale

Clyde

Columbus Grove

Continental

Convoy

Curtice

Custar

Cygnet

Delphos

Delta

Deshler

Dola

Dunbridge

Dunkirk

Edgerton

Edon

Elgin

Elmore

Fayette

Flat Rock

Forest

Fort Jennings

Fostoria

Genoa

Gibsonburg

Gomer

Grand Rapids

Graytown

Green Springs

Grelton

Grover Hill

Gypsum

Hamler

Harbor View

Harrod

Haskins

Haviland

Helena

Hicksville

Holgate

Holland

Hoytville

Jenera

Jerry City

Kalida

Kansas

Kettlersville

Kirby

Kunkle

Lacarne

Lafayette

Lakeside Marblehead

Latty

Leipsic

Lemoyne

Liberty Center

Lima

Lindsey

Luckey

Lyons

Malinta

Mark Center

Martin

Mc Clure

Mc Comb

Mc Cutchenville

Metamora

Middle Bass

Middle Point

Millbury

Miller City

Milton Center

Monclova

Monroeville

Montpelier

Mount Blanchard

Mount Cory

New Bavaria

New Riegel

Ney

North Baltimore

Northwood

Oak Harbor

Oakwood

Ohio City

Old Fort

Oregon

Ottawa

Ottoville

Pandora

Paulding

Payne

Pemberville

Pettisville

Pioneer

Port Clinton

Portage

Rawson

Republic

Ridgeville Corners

Risingsun

Rocky Ridge

Rossford

Rudolph

Scott

Sherwood

Spencerville

Stony Ridge

Stryker

Swanton

Sycamore

Toledo

Tontogany

Upper Sandusky

Van Buren

Van Wert

Vanlue

Vaughnsville

Venedocia

Vickery

Walbridge

Waterville

Wauseon

Wayne

West Millgrove

West Unity

Weston

Wharton

Whitehouse

Williamstown

Williston

Woodville